Three New Focal Press Pro Tools 8 Books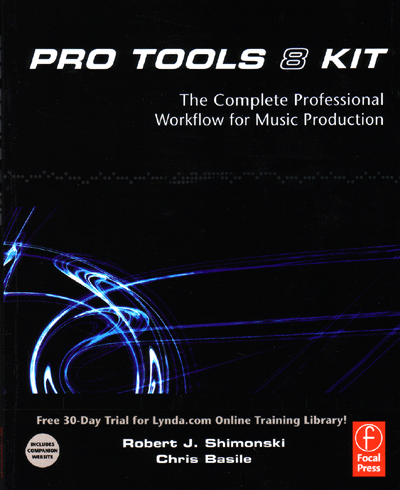 Three new Pro Tools 8 books from Focal Press fully cover the ever-widening scope of this now defacto standard DAW software. Pro Tools 8-Music Production, Recording, Editing and Mixing by Mile Collins covers Pro Tools from a music producer perspective. Although more Pro Tools HD-centric, much of the tutorials are applicable to the LE version. This book acts as like an updated manual for Pro Tools whose current manual (that came with version 7) has become very long in the tooth indeed. Not only are the 'boilerplate' functions of PT covered but the new version 8 features as well. I like the Tips and Note windows because they offer both shortcuts and insights from an author with a complete understanding of a very deep and labyrinth softwre application.
Robert J. Shimonski and Chris Basile focus on Pro Tools 8 LE in Pro Tools 8 Kit--The Complete Professional Workflow For Music Production. (pictured) Far from a "dumbed down" or crippled version, the new version of Pro Tools 8 LE is fully detailed in this book including the new Sibelius scoring features. Everything you need from setting up a system to hardware and computer configuration to starting a song writing session to final mixdown is covered. This is a must have book for all Pro Tools users.
I'm glad author Dale Angell wrote Pro Tools For Film and Video. Personally, this is a weak area for me and I have enjoyed getting up to speed on what can be a complex area of understanding: the relationship between recording and producing music to picture. Version 8 for LE now includes 48 tracks and 5.1 mixing via the DV Toolkit 2 software. Subjects like audio interfaces, timecode, MIDI, ADR editing, and the general workflow common to film and video shoots are all covered.
All three of the aforementioned books sell for $44.95 each and much more information including their accompanied Web sites is at www.focalpress.com




Pro Tools 8 Kit--The Complete Professional Workflow
---
Web Page design is copyright © 2009 by Barry Rudolph