Sig-X Amp from Fryette Amplification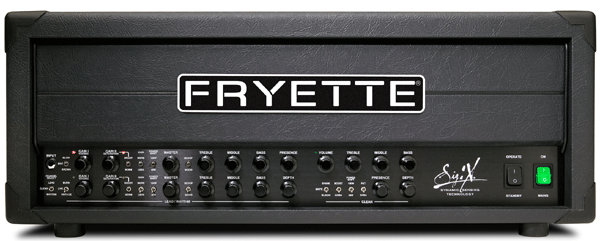 VHT Amplification wizard Steven Fryette, as of January 1, 2009, will commence building guitar amps under the Fryette Amplification badge, a division of Steven Fryette Design, Inc. Fryette Amplification will continue to manufacture and service VHT models currently in production.
The VHT (now Fryette) Sig-X™ three-channel amp has made quite a statement in the last year as a truly versatile 100-watt head that (we agree) produces classic guitar amp tones from old school Rock to British Blues Breakers to modern hi-gain. Here at my studio, I had producer/songwriter/guitarist Oliver Leiber put the Sig-X and a Fryette Deliverance 4X12 cabinet to the test. He played a Korina Explorer with Tom Holmes pickups.
We started with the Clean channel and found many tones from bright, shimmering and tight sounds similar to a Fender Blackface Twin that could nicely break up when chording. The Boost button on the included footswitch puts any channel just over the top in a usable way--such as standouts or solo moments. All three channels have both 40 and 100-watt positions for changing any channel from vintage to modern sounding with increased headroom.
In the Rhythm channel, again we found a huge diversity of possible tones--it's possible for the amp to sound like a Marshall JMP (40-watt) or a Hi-Watt stack (100w) for playing anything from old-school Blues-Rock to '70's Brit Pop. The Lead channel also did not disappoint us either with tones ranging from singing harmonics to gooey and supersaturated sustains. Each channel has it's own personality determined by various toggle switch combinations. For example, the Lead channel has "Brown-Brit-Blow" switch positions that will take the amp's sound through the past decades of guitar tones.
Sig-X comes with a channel footswitch with Effects and Boost on/off buttons, uses a tube rectifier and two KT-88 power tubes and there's a complete (series and parallel) effects loop. We found this head to sound classic, very responsive to touch, takes effect pedals well and not sound clinical like certain boutique guitar amps. The Fryette Sig-X sells for $1,999, has a five-year warranty and for more information, contact www.sfdamp.com
---
Web Page design is copyright © 2009 by Barry Rudolph