Keith McMillen Instruments Batt-O-Meter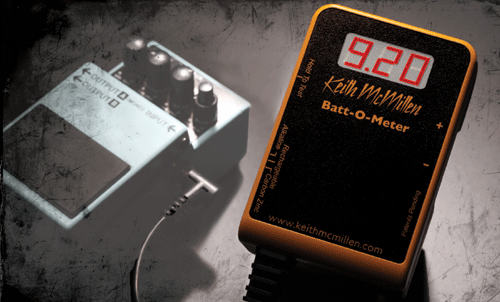 Batt-O-Meter is a useful piece of test equipment for anybody who relies on batteries for powering portable electronics. Batt-O-Meter is an amazing device that is self-powered and uses a microprocessor eliminating the need for extra buttons and adapters. It provides voltage readouts as accurate as many hundred-dollar digital voltmeters and even performs a self-test of its own internal nine-volt battery.
For musicians and studio engineers, Batt-O-Meter takes the guesswork out of knowing a battery's condition and reduces the number of frequent and unnecessary battery changes. No more battery swaps just for the reassurance that you've got "a live one."
Oh, and no more "licking" nine-volt batts to quickly check them!
With three battery type test modes: alkaline, rechargeable, and carbon-zinc, Batt-O-Meter is also capable of testing loose 1.5 or 9-volt batteries using the metal contacts on the outside of the unit.
Batt-O-Meter is a must-have for owners of stomp boxes because you can determine not only the health but also the probable remaining life (indicated as a percentage from 0 to 100%) of the internal batteries without actually taking the boxes apart to get at the battery. Batt-O-Meter has a gold-plated power probe that plugs into the stomp box's 1/4-inch output jack and taps into the battery voltage without powering up the gear. That ability alone makes this one worth the $34.95 MSRP many times over!
If a dead pedal has ever torpedoed your shining moment in the bright spotlight, you need Batt-O-Meter. Find more information about Keith McMillen Instruments at www.keithmcmillen.com and the Batt-O-Meter at www.batt-o-meter.com.
---
Web Page design is copyright © 2009 by Barry Rudolph