Liquid Mix HD For Pro Tools

Read Barry's Mix Magazine Feature Article On Compression and Compressors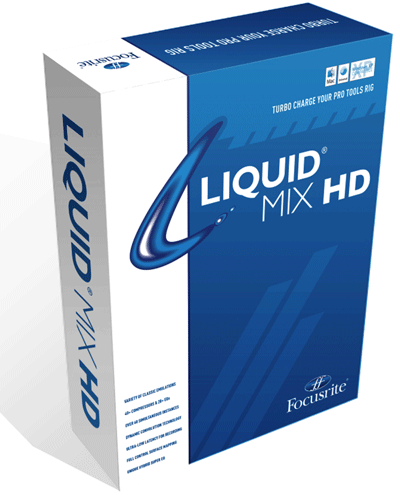 Focusrite's Liquid Mix HD has the same great collection of vintage equalizers and compressor emulations as the original LM external DSP unit--only now they run as TDM plug-ins in Pro Tools. This is great news for all 'us' Pro Tools mixers! Over 60 instances can be used simultaneously on a typical HD 3 system plus Pro Tools HD's low latency mixer allows their use for both recording and mixing.
Having used the LM unit since it first came out, I am well aware of the great sound of its 40 compressor and 20 EQs available in any conceivable combination. The GUI is identical to the original system with the same "free" mode for all compressors--you can add modern controls like variable attack and release to vintage emulations of gear that never had those control--Cool!
In my mixing projects here at my Tones 4 $ Studios, I've been comparing my usual mixing EQ and compressor chains with LM HD and I'm finding that the ability to mix and match so many different equalizers and compressors within one plug-in easier and much better sounding. I like to use LM HD on vocals, backing vocals, drums and orchestral tracks--strings and brass. LM HD sounds and works exactly like the original LM unit and, because of its patented Dynamic Convolution, sounds like no other software plug-in processor. You'll never enlarge your sonic palette with this many choices this fast by installing just one piece of software. Awesome at any price!!
Liquid Mix HD sells for £299.99 and more information is at: www.focusrite.com.
---
Web Page design is copyright © 2009 by Barry Rudolph