Marshall MXL V89 Condenser Microphone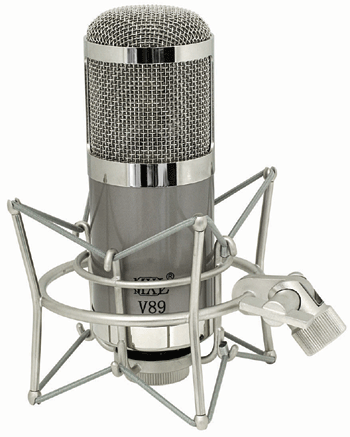 As a pro recording engineer one of the most asked questions I get from songwriters, singers and musicians is "what's a good mic that doesn't cost a lot?" Most people don't have the wherewithal to own several mics for various applications--they can only afford one or two so they are looking for a workhorse mic for vocal, acoustic guitar and piano recordings. The new Marshall MXL Professional V89 condenser is on my short list of current answers.
The V89 is an impressive-looking FET (that's Field Effect Transistor) cardioid only mic that's built to last and has a warm, forward sound. It comes encased in a protective and handsome wood case complete with a universal shock mount and foam pop filter. It uses a 32-mm diameter capsule suspended within an internal shock mount. The capsule has a center-tapped, 6-micron thick gold-sputtered Mylar diaphragm. The brass metal body minimizes body resonances and the tuned grill cavity helps to reduce standing waves and harmonic distortion.
I found the mic perfect for loud or soft vocals and acoustic guitar playing making it a very good all-around microphone.
The MXL V89 Studio Condenser Microphone sells for $599 but the MAP (that's Minimum Advertised Price AKA street price) is $399 and includes a 3-year warranty. Much more at www.mxlmics.com
---
Web Page design is copyright © 2009 by Barry Rudolph