Martin Acoustic MFX130 Custom Silk & Phosphor Guitar Strings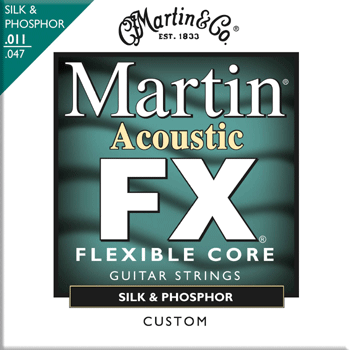 The MFX130 Custom is the new addition to the Martin FX Flexible Core acoustic string product line. Designed for comfort and playability, the MFX130 starts with a round core wire clothed with a silk-nylon material and then covered with a phosphor bronze wrap. This alchemy produces a sweet and melodic string with remarkable playability at any fret position.
The pure steel round core wire has a high tensile strength for increased durability--you'll stay in tune and play longer. The round core wire and custom gauging reduces finger fatigue and permits faster and easier transitions from string to string. The MFX130 are specifically designed and gauged to provide balanced volume and a sweet, warm tone. A MFX130 set is great for beginners, acoustic stage performers or electric guitar players transitioning to acoustic guitar playing.
Martin FX Flexible Core represents the new generation of acoustic strings built on 176 years of acoustic excellence. For more information check: www.martinstrings.com
---
Web Page design is copyright © 2009 by Barry Rudolph