McDSP Retro Pack Plug-Ins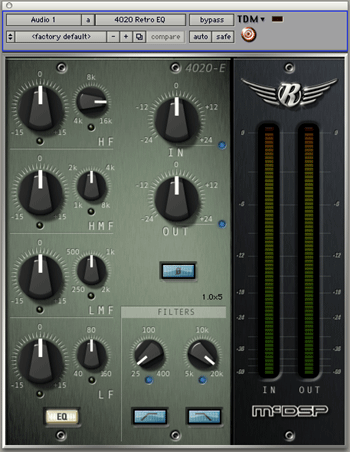 McDSP's Retro Pack plug-in bundle is a blast from the past--solid recreations of three stalwart studio processors common to all recording studios past and present. Totally conceived, styled and designed to sound and work like vintage gear, the Retro Pack bundle includes the 4020 Retro EQ, the 4030 Retro Compressor and the 4040 Retro Limiter.
I installed Retro into my Pro Tools HD rig here at my Tones 4 $ Studios and started to "heat" them up with electric guitars, vocals and drum tracks. I like the way they break up--distort when overdriven both on the input and output side--there doesn't seem to be anything "digital" sounding about all three of these processors.
The 4020 Retro EQ is a four-band EQ with a high/low pass filter set. The equalizer's HF and LF bands are shelving EQ, with two additional semi-parametric EQs for the HMF and LMF bands. Just like an old Pultec tube EQ, you can boost and then roll-off at the same frequencies to create a resonant peak at the roll-off frequency.
The 4030 Retro Compressor sounds old school too but has features nobody thought of "back in the day." There is a Wet/Dry mixer for adding back the uncompressed sound and there is a Key input with a Listen mode for setting up a de-esser or voice-over program ducker. You can make this compressor transparent or as colorful sounding as you want by using the Attack and Release controls.
The 4040 Retro Limiter is the most modern of the three--it is a look-ahead brick wall limiter with a vintage and smoother limiter action. You get solid level control without noticing it too much.
As a starting set of very useful plugs or a way to expand your existing collection, I'm finding them to be great "go to" processors for every source. Retro Pack HD (TDM/RTAS/AudioSuite) is available for $995, and Retro Pack Native (RTAS/AudioSuite) for $495. Emerald Pack HD 4.0 customers will be eligible to purchase Retro Pack HD for $695 and Emerald Pack Native 4.0 customers will be eligible to purchase Retro Pack Native for $295. Much more information is at www.mcdsp.com.
---
Web Page design is copyright © 2009 by Barry Rudolph