Mills Acoustics Afterburner 412B Classic Cabinet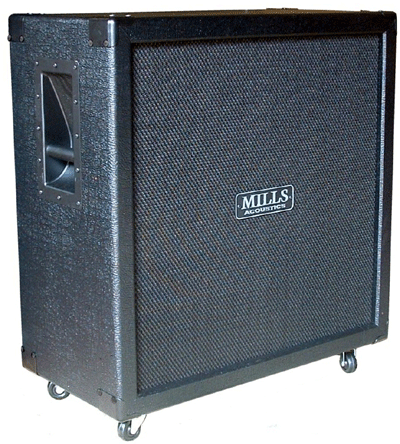 The Afterburner 412B Classic is based on the Afterburner 412 Cab series but is three inches shorter and narrower. The 412B Classic is also based on requests from users who wanted the same Afterburner sound but in a slightly smaller size since the original Afterburner 412B is an oversized cabinet.
The Classic measures 29 X 29 X14.75-inches--actually slightly smaller than many of the traditional 4x12 cabs. It is built with the same design innovations and materials as the rest of the Mills line and it features Celestion Vintage 30 speakers. It is made with 18mm/13-ply Baltic birch back and sides and utilizes the internal Afterburner ported baffle said to increases articulation and projection.
You also get: steel reinforced inside cabinet corners; plug-in casters with rubber feet; heavy steel recessed handles; and steel corners that are screwed in and not riveted. The cabinet plays either in 8 or 16-ohms and uses 14-gauge stranded copper wiring.
With a limited lifetime warranty, the 412B Classic Cabinet with Vintage 30s sells for $899 MSRP. For more information, visit: www.millsacoustics.com
---
Web Page design is copyright © 2009 by Barry Rudolph