Mixosaurus DAW Drums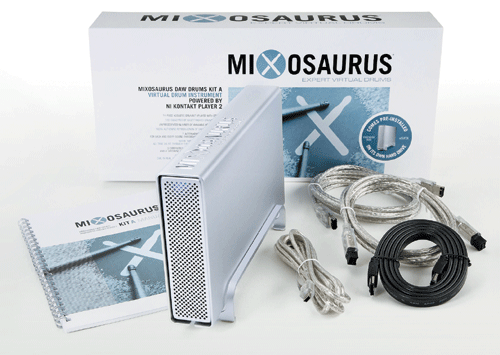 The future of DAW virtual drummers goes by the prehistoric-sounding name of Mixosaurus. Mixosaurus Kit A is a stereo sampled acoustic drum library comprised of over 80,000 samples organized into up to 1,800 programmable (Native Instruments) Kontakt2 player instruments. Mixosaurus' designers intend for any computer-based musician or producer to have full access to every possible technique, nuance and way an expert drummer can play a brilliantly recorded 14-piece drum kit.
Kit A was recorded using 20 microphone positions including close mics, stereo PZM (that's pressure zone mics), three different pairs of overheads (small diaphragm, ribbon and large diaphragm), plus a pair of room microphones for adding in ambient reverb. All 160,000 24-bit digital recordings make up 122GB of files and are stored on an included external 150GB hard drive with 800 and 400 Firewire, USB, eSATA jacks. The large number of samples reflects the detail and number of separate articulations available and key mapped across over 100 MIDI keys. For example there are 29 different articulations to cover the most expressive element of the drum kit--the hi-hat. To keep things more "humanlike", Mixosaurus will automatically rotate through 7 samples per sound. Kit A is also compatible with standard MIDI drum formats such as Addictive Drums, BFD (1 and 2), DFH, EZ Drummer, Yamaha, Roland, and General MIDI.
Mixosaurus via Kontakt's Output section is completely mixable with regard to dynamics, filters, envelope, tuning, level, panning, and additional effects. You can mix and match individual drum kit components--build kits with up to 64 individual patches into a single Kontakt Multi.
I used Mixosaurus both standalone and within Pro Tools at my Tones 4 $ Studios and found getting realistic sounding drum tracks a breeze. I could get very "tweaky" when adding subtle drummer "things" like ghost notes, stick drags and hi hat "mis-hits." I liked the number and versatility of the many drum setups with names like: Heavy, Vintage, Light, Standard, Phasor, and Dry. Since the drum recordings are not hyped and very natural sounding, they are fully malleable for post-processing just as you would with a real drummer's kit recording.
Mixosaurus is a vast library of drum samples well organized for easy use by any programmer who wants to improve both the sound and 'performance' aesthetic of his/her work! It sells for $799 delivered on the external drive and $699 for the internal drive. Check www.mixosaurus.com for more. Distributed in the Americas by MV Pro Audio at: www.mvproaudio.com
---
Web Page design is copyright © 2009 by Barry Rudolph