The Complete Home Music Recording Starter Kit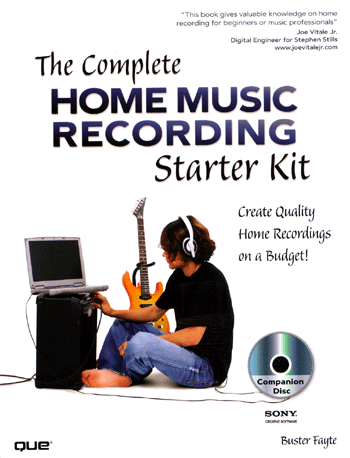 In a perfect world all computers and/or recording software programs would come with this book. For scratch beginners, between the amount of information required to learn a software music creation program, making good gear purchase decisions, and the challenge to hook up a working studio is overwhelming. The Complete Home Music Recording Starter Kit by Buster Fayte "takes you by the hand" from the beginning to the end and explains every single technical part of the whole process. You'll make more informed decisions about which gear and software to use and start making music--the whole reason you bought all this stuff to begin with.
I liked the logical order of the book starting with chapters that discuss possible paths and budgets: analog vs. digital, computer-based vs. PortaStudio or reel-to-reel and consoles, MAC vs. PCs, space consideration and sound treatment of your recording space. If you go with a computer-based system you'll read how to buy and configure a computer for music recording and get a great intro to Sony's Acid Pro 7 software. You'll learn how songwriters develop and edit backing tracks complete with a tutorial on getting a respectable drum sound.
Later chapters get you into MIDI sequencing, loop usage, and recording vocals. You'll next learn about mixing and mastering and the process of delivering your music via CD or MP3 files. The Studio Log at the end of each chapter highlights what you've just learned and how it will factor into subsequent chapters--great idea! The book finishes with a tutorial on selecting the right audio interface and a great glossary. With companion CD with demos of ACID Pro 7, Sound Forge 9, NI's Guitar Rig, hundreds of loops, training videos and downloadable sound files, The Complete Home Music Recording Starter Kit sells for $34.95 and is available from Que Publishing at www.quepublishing.com.
Check out Buster Fayte at: www.busterfayte.com




The Complete Home Music Recording Starter Kit
---
Web Page design is copyright © 2009 by Barry Rudolph