Spectrasonics Stylus RMX With Time Designer™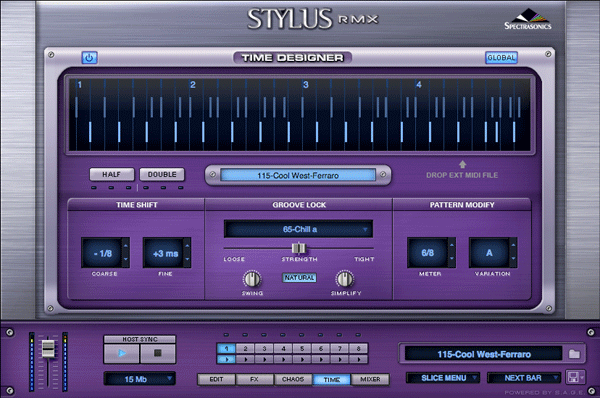 The Time Designer Screen--One Of Many Screens Inside Stylus RMX
I've installed into my Pro Tools rig Spectrasonics' Stylus RMX ver 1.81d--the latest update that includes Time Designer. Right off the bat I have to say that this virtual instrument runs smoother than any of my other VIs--and I have most of them!
RMX Stylus is a glorious loop program that provides thousands of audio loops that are endlessly malleable. Stored as embedded Groove Control® formatted files, these files are easily accessible and editable as standard MIDI data. This is beyond mixing and matching samples--you have complete control of these loops in a musical way using an intuitive interface.
To get you started, the RMX Xpanded box version now ships with five S.A.G.E. Xpanders for an even larger and wider variety library of loops. More at: www.spectrasonics.net/instruments/xpanders/.
Time Designer™ extends control by intelligently transforming the RMX audio loops into different time signatures. Effectively increasing your library by a factor of twelve, this feature is especially important for film/video music composers where changes in time signature are commonly used to foster and support dramatic story moments. I found the ability to hear traditional 4/4 loops in 6/8 amazing--actually doubly amazing since the transformation sound so perfectly human and real.
I also found the new Groove Lock feature a great idea because, once I found a feel I liked, I could use it as a master and then insinuate it into all the other grooves in RMX all in real time. For pattern variations, Time Designer allows changes in patterns based on musical rules as dictated by smart algorithms--way smarter than me! Add RMX's Chaos function on top of this and your music will sound like nobody else.
For Mac and PCs, Spectrasonics Stylus RMX With Time Designer™ is their first 64-bit native software release for Windows PCs, includes all the new effects from Omnisphere, supports host synchronization, and is a free download for all registered users of Stylus RMX. The full retail package of Stylus RMX Xpanded sells for $399 MSRP. Visit: www.spectrasonics.net/instruments/stylusrmx.html
---
Web Page design is copyright © 2009 by Barry Rudolph