DigiTech RP1000 Integrated Effects Switching System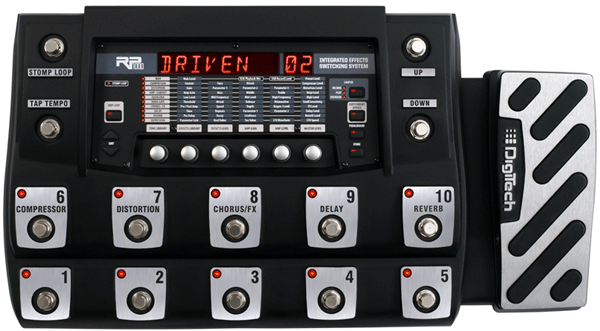 DigiTech got it all right with the super-flexible RP1000 Integrated Effects Switching System. Core to understanding its unique abilities separating this mega-ruggedly-built multi-effects floor pedal board from others is its switchable, external stompbox loop as well as an external amp loop. The stompbox loop lets you add any combination of your own pedals into one of two different points in the RP's effects path. The amp loop lets you use your own pre-amp or amp for tone bypassing the RP's tone modeling and leaving only its effects.
The RP1000 features over 160 internal stompboxes, effects, amps and cabinets including the famous DigiTech® Whammy. The RP1000 is built for the stage with heavy-duty die-cast metal chassis, and 14, heavy-duty metal switches and treadle plate. RP1000 has two operating modes. Preset mode is where the ten numbered footswitches (when pushed) loads a pre-programmed preset. There are ten banks of ten presets--100 user and 100 factory presets. Presets are built right on the front panel using a matrix-like list of parameters and three knobs labeled: Tone Library (40 different combinations of compressor, distortion, stompbox, amp/cabinet modeling, EQ and noise gate); Effects Library (40 different combos of chorus, delays and Lexicon reverbs); and lastly Effects level.
The other mode is called Pedal board mode. In this mode the ten footswitches act like individual stomp pedals so while in a preset you can switch them in/out or add others that were not originally in a preset.
I had loads of fun playing through the RP1000--especially the 20-second phrase looper where you can build stacked harmonies while playing live. I liked that there are jacks to connect to you amp as well as studio XLR DI outputs, stereo 1/8-inch headphone jack, downloadable X-Edit Librarian software for building presets on your computer, 2 in/out USB audio streaming for recording digitally using the included Cubase LE4 software.
With external power supply the RP1000 sells for $699 and for more information, check: www.digitech.com/products/Multi-Effects/RP1000.php
---
Web Page design is copyright © 2009 by Barry Rudolph