Sabian AAX X-Plosion Crash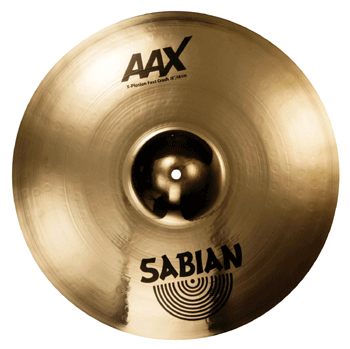 A thinner version of Sabian's popular X-Plosion Crash, the AAX X-Plosion Fast Crash is more sensitive, glassier sounding and punchier in a wider range of dynamics. With its AAX 'Dynamic Focus' design, this model is great for quick and punchy accents at all volumes, from soft to loud. Drummers will like this cymbal for flashier flourishes that get impact over without too much whoop!
This extra-thin model is available in 14-inch, 15-inch, 16-inch, 17-inch, 18-inch and 19-inch sizes. It's crafted of B20 bronze, with its sound shaped by pinpoint lathing and AAX jumbo peen hammering. Use it often to deliver a super-fast responsive accent with a pure, clean and focused sound.
All Sabian cymbals come with a two-year warranty and for more info including pricing, check www.sabian.com.
---
Web Page design is copyright © 2009 by Barry Rudolph