Sennheiser Wireless G3 Microphones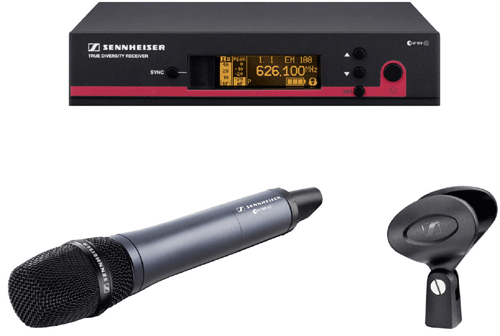 The highly successful evolution microphone line is now in its 3rd generation of wireless models. The new 100, 300 and 500 G3 series rack-mount wireless products, which incorporate a broad range of enhancements, all include the Soundcheck Mode previously available only on the G2 500 series models.
A mainstay of the evolution line is easier setup with more compatible operating frequencies--the G3 series true-diversity receivers have a switching bandwidth of 42 MHz with 1,680 tunable UHF frequencies. Featuring all-metal cases, the new receivers employ one-touch channel synchronization whereby any G3 transmitter communicates directly with G3 receivers over an infrared interface. The management and number of channels depends on which receiver you buy: the 300 series supports 20 channel banks of 24 presets each while the 500 series has 32 presets across the 20 banks. Both receivers have six additional channels banks programmable in 25kHz steps. The 100 series offers twenty channel banks with up to twelve presets each and one further channel bank freely programmable in 25 kHz steps.
Other features and parameters accessible via the 300's or 500's receiver's controls and display are: adjustable output power from 30 mW to 10 mW to pack in more channels, direct frequency selection, instant reset to factory settings, synchronization and warning settings, transmitter battery condition, audio and RF levels and, only in the 500 series, a five-band equalizer.
Now with audio frequency range extended from 18 kHz down to 25 Hz, a world wide switching power supply in all G3 receivers, and the ability for transmitters and receivers to be powered by optional Sennheiser BA2015 rechargeable battery packs instead of standard batteries, the new G3 evolution wireless microphone systems are better than ever. For more information, please visit www.sennheiserusa.com.
---
Web Page design is copyright © 2009 by Barry Rudolph