Sennheiser Microphone Skins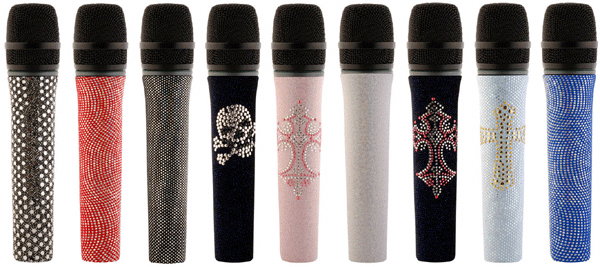 The performer's handheld microphone is in the audience's eyes as much as their face and a flashy mic that's nice to look is a must these days. Long gone are clunky, beat-up mics with ropy cables hanging by a thread!
Especially popular with artists like Beyoncé, Rihanna, Avril Lavigne and Janet Jackson, the custom-painted or Swarovski crystal-coated wireless microphones have become standard equipment and so Sennheiser now makes Mic Skins for the evolution wireless G2 series handheld microphone.
Sennheiser Mic Skins are styled for musical performers and houses of worship with nine distinctive "looks" that fit snugly over any evolution wireless G2 microphone. Sennheiser Mic Skins designs include White Glitter (white and metallic reflective glitter), Red Shattered Glass (red background with reflective metallic dots), Shattered Glass, Black Shattered Glass, Silver Mirrored on Black (mirrored circles on a black background), Dark Blue Velvet with Skulls (dark, reflective velvet with studded skull & crossbones), Dark Blue Velvet with Pink & White Cross (dark, reflective velvet with rhinestone gothic-style pink and white cross), and White Reflective comes with a Traditional Gold Cross and Pink Glitter.
Prices start at $29.95 MSRP. You could get several to fit your mood, the mood of the venue or your band's image and music. For more information, please visit www.sennheiserusa.com.
---
Web Page design is copyright © 2009 by Barry Rudolph