Simple Amps Traveler 6VA Guitar Amp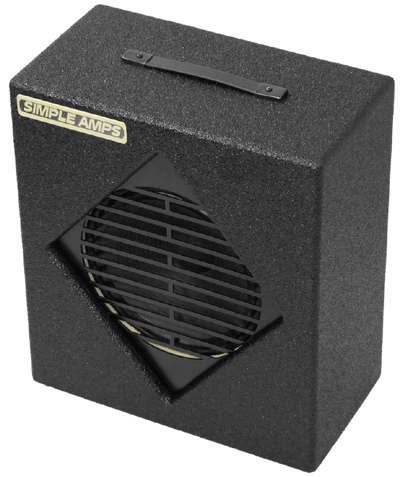 Simple Amps has released the new Traveler 6VA amp. The Traveler series are more portable and lower cost guitar amps. Their heritage is the Big Iron series, Simple Amp's top line with similar build quality and fit and finish. You get quality components such as Sozo capacitors, Mercury Magnetics transformers and power supply choke, and Simple Amps' own custom made carbon film resistors. A pair of 6V6 tubes drive a Jensen ten-inch MOD 35 speaker and all Traveler amp cabinets come with a spray-on, rugged coating.
My early review amp came all black with a black metal grill protecting the speaker. This is an all business, no frills guitar amp with rear panel Volume and Tone controls, guitar input jack, AC power connector, On/Off switch and blue pilot light. Its smaller size and low weight make it a good amp for casuals or recording gigs. We fired up this jewel and immediately got on our blues tube tone. We found it to sound like the old Valco-made amps of the '50's--the Sears, Silvertone and Supro models. The 6VA's simple operation works not to get in the way of making music for us. Ours had a 12AX7 in the front end and exchanging it for a 12AU7 increases headroom and makes it more pedal friendly.
So the Traveler 6VA from Simple Amps delivers a cool Blues tube tone at low to medium volumes--making it perfect for your bedroom or studio recording. It sells for $1,000 MSRP. Within the next few weeks Simple Amps will be releasing the Traveler 6LA with a pair of 6L6s driving a ten-inch Jensen MOD 50 and the Traveler 34A with a pair of EL34s driving the same speaker. With an output of about 40-watts, the Traveler 6LA and 34A will sell for $1150 MSRP. For much more, check www.simpleamps.com.
---
Web Page design is copyright © 2009 by Barry Rudolph