Solid Cables GT Series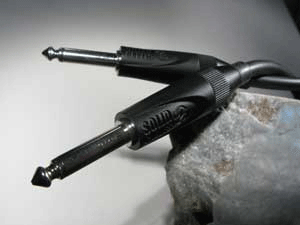 You could probably towed a truck with one of Solid Cables' new GT Series Instrument cables but it would work better as a guitar cord for the same reasons: its superior manufacture using quality components. There are two models that (especially when used together) will greatly improve your sound as fast as you can switch over to them.
The GT speaker cable uses a oxygen-free copper conductor and rugged all metal plugs with encapsulated solder joints that prevent breakage even when towing larger trucks. The plugs are fused to the cable heat shrink tubing to make a solid, one-piece connection between amp and speaker cabinet. You'll never have a broken connection or a short--and a short in a speaker cable usually means major repairs for any amp head.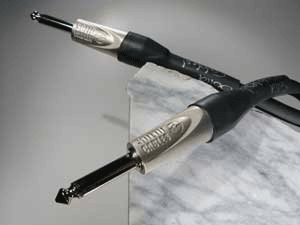 The new GT Instrument cable also uses all-metal plugs and low capacitance cable stock that uses a very small air gap so that low-level instrument signals are delivered from your guitar to you amp in the most pristine manner possible. I tried out a ten-foot GT Instrument cable and I liked the sound and the beefy feeling of them. They are noise-free, lay flat on the floor, don't kink and are nearly impossible to cut when (accidentally) rolling heavy equipment cases over them. These are a "solid" investments; all-business cables meant to take it and keep working perfectly for years.
The GT speaker cable sells for $50 MSRP for a three-foot model while the GT Instrument (as tested) sells for $60 for a ten-footer. Check: www.solidcables.com
---
Web Page design is copyright © 2009 by Barry Rudolph