TC Electronic RH450 Bass Amp System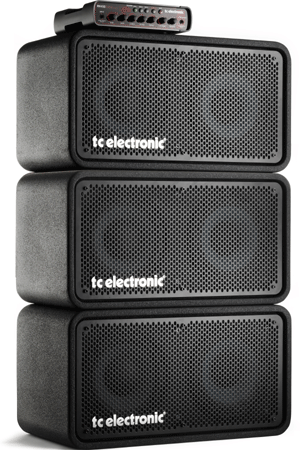 Professional audio manufacturer TC Electronic has focused their considerable research and development expertise toward the creation of what may be the first no compromise bass amp. Three elements make up the system: RH450 bass head, RS cabinets and RC4 remote.
RH450 is 450-watt solid-state head with Active Power Management™ said to operate very much like a tube amp with 450-watts of power (800+ peak). Notable by its small size, the RH450 uses Class-D technology, weighs in at a svelte nine pounds. It has a balanced DI output, headphone output, chromatic tuner, three user memories that hold all front panel settings, SpectraComp™ multi-band compressor, speaker filter and rehearsal mode with stereo input jacks (you can plug your iPod into it and play to a recorded backing track), four-band equalizer, 96kHz direct digital output, and auto-sensing world power supply.
RH450 is available as a standalone unit or combined with the matching, custom-made RS210 (2X10-inch and 38 pounds) or RS212 (2X12-inch and 44 pounds) bass cabinets. The RS cabinets mount the drivers vertically so one driver is near the floor for great low end and the other higher up near your ear for good pitch recognition. Designed by Tannoy, the RS cabs are constructed out of 18mm plywood and fitted with Eminence drivers and tweeters with 33mm voice coils and titanium diaphragms. They come finished in an anti-skid surface treatment to keep cabinets together when stacked. The RC4 is a floor controller for RH450. It has a tuner indicator, three preset foot buttons to change the three user memories, and a mute button. For much more, check www.tcelectronic.com/bass.asp
---
Web Page design is copyright © 2009 by Barry Rudolph