Tech 21 Boost D.L.A. Tap Tempo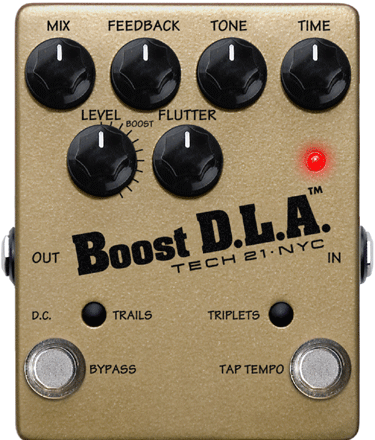 Only a guitar-player would think to combine delay and boost in the same pedal. That's what the Tech 21 Boost D.L.A. with tap tempo is all about. You get up to 9dB of extra boost for solos and standouts. The Level control sets how much you stand out or use it to jump up the level of sweet sounding but old single coil pickups to compete with your modern hot-wound humbuckers.
In the delay department, this pedal has a smooth analog-like delay line with up to 1,000Ms (1 second) of time delay. The pedal somehow crams controls for: Mix (Wet/Dry), Feedback (regeneration or echo repeats), Time, Tone (EQ), and Flutter. Flutter adds delay modulation for a shimmering/chorus effect when delay times are set very short. Across from the hardwired bypass footswitch is a separate switch for Tap Tempo that sets delay times even while in bypass.
The small Triplets button causes triplets to play (square) in sync while Trails gives you the option of either abruptly cutting off delay repeats with the Bypass button or allowing them to naturally decay--kinda depends on your musical aesthetic which you prefer.
Tech 21 uses tunable lo-fi analog circuit design technology to maintain the characteristics of vintage delays--whether digital, analog bucket brigade chips or a good 'ol analog tape deck.
Like all of the Tech 21 line, Boost D.L.A. Tap Tempo runs on a 9-volt alkaline battery (not included) or optional DC power supply (Tech 21 Model #DC2). Made in the U.S.A and not by slaves in some third-world hellhole, Boost D.L.A. sells for $260 MSRP. Visit: www.tech21nyc.com.
---
Web Page design is copyright © 2009 by Barry Rudolph