| | |
| --- | --- |
| Tonehunter Guitar Pedals | |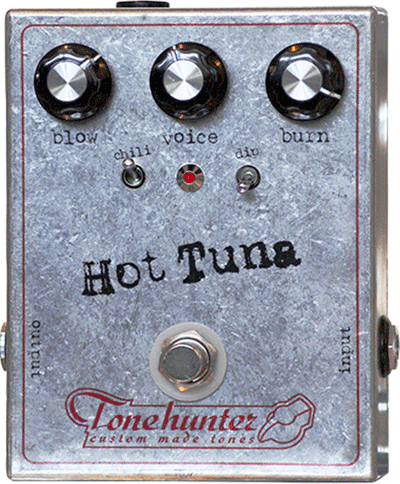 From Cologne, Germany comes a new line of guitar stomp pedals guaranteed not to affect the basic tone of your guitar. We tested two of the first ones out, the Hot Tuna (pictured) and Juicy Fruit. All the pedals are built in sturdy aluminum boxes with heavy-duty circuit boards and have true bypass switching with good hum shielding.
Of the two we tested, we liked the Hot Tuna pedal best. We used a Custom Shop Telecaster with a maple-capped maple neck and a Fender Pro Junior Custom shop amp. Hot Tuna has a large range of sounds--it can make sounds anywhere from a Fuzz Face to a Germanium Tone Bender pedal. Lead sounds were all rich and harmonically singing.
Also an overdrive pedal, Juicy Fruit seems more like a Blues pedal with a British Vox-y tone. We like it for Texas-style Blues all the way to more broken up and modern Rock noise making.
Both the Hot Tuna, Juicy Fruit and Tasty Flakes overdrive pedals sell for $429 and the other Tonehunter pedals, Open Range, a harmonic booster and Spawn, a gain enhancer unit are $329 each.
For more information, check www.tonehunter.com
---
Web Page design is copyright © 2009 by Barry Rudolph