Tonium Pacemaker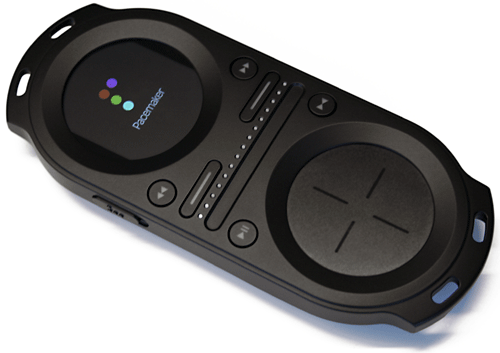 No, the Tonium Pacemaker is not for your heart but it may rev your heart rate once you get to know it! The Pacemaker is a handheld DJ system with a built-in 60GB hard drive to store up to 15,000 songs and mixes.
The DJ's two turntables are mimicked with a single touch pad that you can tap and swipe. The top half of the unit is a display screen that shows your song catalog, song artist, track title and album, track time of the two songs playing, current track BPM and any engaged effects. The middle of the unit has crossfader to "cut" between songs and there are rewind (loop), play and reverse, stop and fast forward (loop end point), and Cue buttons. You can auto beat match to crossfade between two songs of disparate tempos and use a full set of audio effects like EQ, reverb, pitch change (without tempo change) and more.
Freely downloading the Pacemaker Editor also gives you access to the Pacemaker Community. The Pacemaker Editor is for PC and Mac computers, and once connected to your computer via a USB 2.0 cable, you can import iPod playlists or individual songs in mp3 (up to 320kbps), M4A (AAC-LC), .aiff, .flac, .wav, Ogg Vorbis, and .snd (Sound Designer) formats. Build your own playlists and transmit them to the Pacemaker. The Pacemaker Community is an online music community that allows members to upload and legally share the mixes of their music, created by the Pacemaker or the Pacemaker Editor software.
I found using the Pacemaker fairly intuitive for basic DJing. The P switch acts like a shift key to enter two different sub modes to access monitoring functions and auto beat match, when down or when up, effects, looping features and more. With a little practice, I might be able "to get jiggy wid it" but for now it makes a cool music player I can interact with and create a mood here at my Tones 4 $ Studios.
Pacemaker is available at Amazon.com for $499. More information about Pacemaker and Tonium is available at www.pacemaker.net
---
Web Page design is copyright © 2009 by Barry Rudolph