Who Are You: The Life Of Pete Townshend from Omnibus Press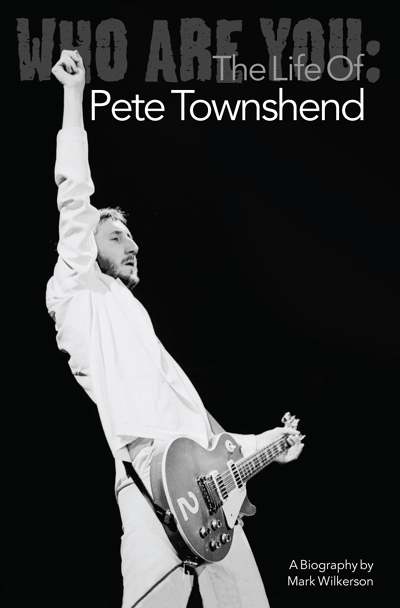 One of the most in depth and frank biographies I've read, Who Are You: The Life Of Pete Townshend by Mark Wilkerson reaches deep into the soul of a man many consider an artistic force majeure. Wilkerson has organized the story into bracketed chapters of time--periods of change in Townshend's course through life. The author uses relevant quotes from trade magazine interviews plus interviewed Townshend himself and more than a dozen other Townshend friends, family members and associates to support and explain Townshend's own version of the history of himself and, of course, The Who.
I was struck by Pete Townshend total "honesty" in the way he lays out his feelings and emotions throughout this detailed study of his life. I also came away with the understanding that Pete Townshend worked at his "art" more than anything else in his life--more than his marriages, more than his friends and his band mates, and even more than his health. When the rest of The Who were out relaxing and partying after a show, Pete would return to his home studio and work on songs, recording demos, or new sounds on the primitive synthesizers of the day.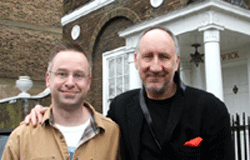 Author Mark Wilkerson and Pete

Of particular interest was reading about the early days of The Who through the prism of the press accounts of their first shows under the name The High Numbers, a nod to the Mod movement in London at that time in the Sixties. The Who were the proto Punk band that got such a huge crowd response after Pete accidentally rammed the head of his Rickenbacker guitar into the low ceiling over the stage, he started incorporating it as part of the show. Soon they were ending each show by demolishing of all their gear including, sometimes, the PA system. It was no wonder that on tour, between the huge room service bills and buying new equipment all the time, the early band was nearly always in debt!

A fascinating story about the man who wrote: "I hope I die before I get old," Who Are You: The Life Of Pete Townshend is a classic Rock biography. From Omnibus Press, check www.omnibuspress.com for more.







---
Web Page design is copyright © 2009 by Barry Rudolph