VOX Amplification NT15H Night Train 15-Watt Amp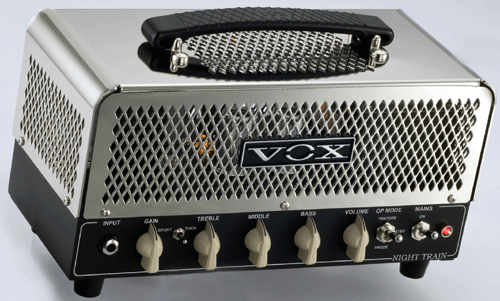 Good things do come in small packages--in this case an attractive, mirrored chromed case. VOX showed the NT15H 15-watt amp top at the 2009 Winter NAMM Show and after it became available the following spring, it became an instant success--so popular that, so far, I've been unable to get one for a "hands-on" evaluation. This all-tube jewel is a collaboration between VOX's R&D team and amp designer Tony Bruno.
Two EL84 tubes driven by a two 12AX7 tube pre-amp section deliver 15-watts of power. A toggle switch changes the EL84s to either pentode mode for the full 15-watts or triode mode for 7.5-watts. At half power, the triode mode provides a smoother, mellower tube character great for studio recording where loud volumes and huge speaker stacks are not required.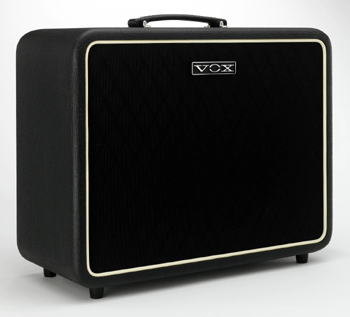 The front panel controls are the traditional chicken head pointer knobs for Gain, Volume, Treble, Middle and Bass. The preamp section features a Bright or Thick mode switch where Bright produces an articulate tone that ranges from clean to crunch; while Thick bypasses the tone stack to boost gain creating a chunkier, heavier sound. Equipped with both 8-ohm and 16-ohm speaker jacks, the Night Train can be used with nearly any speaker cabinet but if I ever get one of these amps, I'd go with the new V112NT speaker cabinet (pictured), it's the aesthetic and musical match for the Night Train NT15H head.
The VOX NT15H Night Train sells for $700 and the VOX V112NT speaker cabinet is $249.99 MSRP. for more information check www.voxamps.com.
---
Web Page design is copyright © 2009 by Barry Rudolph