Yamaha AvantGrand N2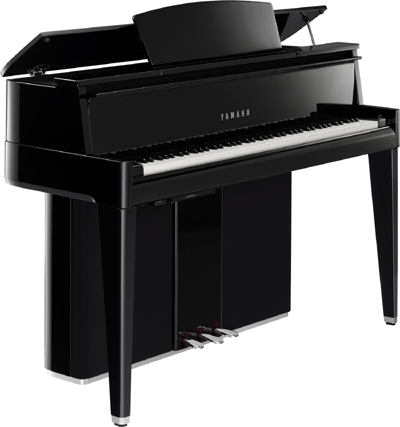 It may look like an upright piano but the Yamaha AvantGrand N2 is crafted, plays and sounds like a grand piano. Besides selling for a fraction of the price a grand piano, the N2 is just 21-inches wide making it a winner for an apartment or any limited space--it'll fit right up against any wall. The N2 features the exquisite sound of the acclaimed Yamaha CFIIIS nine-foot Concert Grand piano and is the upright version of the flagship AvantGrand N3 hybrid baby grand piano.
The N2 features the same highly advanced sound reproduction and sampling technology as the N3 so you can forget about paying a piano tuner and handling the cost and size of a comparable stringed instrument. The AvantGrand Series are the first digital pianos where players feel an actual physical connection to a mechanical instrument just as they would with a large, acoustic grand piano. Its Tactile Response System transmits "string" vibrations through the keys to player's hands, while the revolutionary four-channel, three-way Spatial Acoustic Speaker System reproduce the original grand piano samples.
In addition to the remarkable grand piano sound samples, the N2 also features electronic piano and harpsichord voices.
For more about it, check: www.avant-grand.com.
---
Web Page design is copyright © 2009 by Barry Rudolph