Zoom H2 Surround Sound Handy Recorder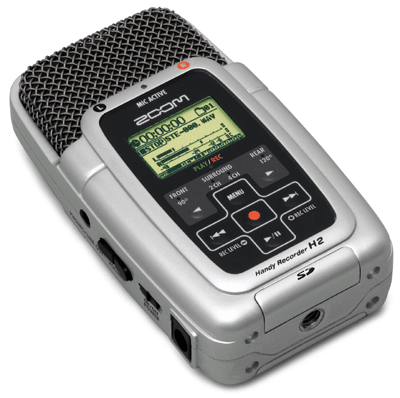 For a shirt pocket-sized recorder, the Zoom H2 packs the most powerful technology I've seen--and it runs on just two AA batteries! The H2 starts with two stereo microphones: both forward and rear-facing mics capture a 360-degree sound field and record them as two stereo .BWF (standard Broadcast WAV) files on to an included 1GB SD memory card. Although you can select standard stereo only (to conserve space on the SD card), it makes sense always to record in four channel to document, completely, a band's performance at rehearsals or live gigs.
The H2 connects to your computer via USB for sound file transfers but I found the powerful features are within the unit because no software is required for: renaming files; file normalization; collapsing four channel recordings to stereo or all the way down to mono; or converting files to MP3s. The H2 will also function as an USB microphone and SD card reader for your computer.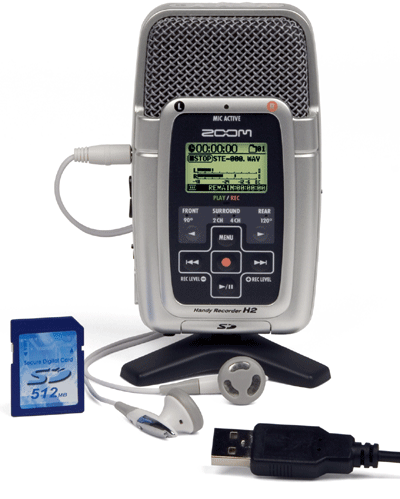 The H2 is the perfect band practice recorder--it will even generate simple metronome tracks and includes a digital tuner. Great sounding from the first take, it has the ability to record at 16 or 24-bit resolution and up to 96kHz sample rates or directly to MP3. I placed the unit in the middle of four musicians who I had each sit or stand within the microphone's four quadrants of pickup. The unit has loads of microphone gain plus several AGC (automatic gain control), compressor and limiter presets each designed for particular recording jobs such as narration, drums and percussion, concert music and more.
Once recorded, there is a quadraphonic mixer that lets you adjust (remix) the volume level of each of the four channels (musicians). This is too cool! If you get serious about your surround sound masterpiece, download Immersive Media Research's Vortex Zoom Encoder (Mac or PC) and convert it to standard 5.1 surround sound format.
Way more functionality in this great product than I have space for here so visit: www.samsontech.com/products/productpage.cfm?prodID=1916. A free trial version of Vortex Zoom Encoder is at www.im-research.com.
---
Web Page design is copyright © 2009 by Barry Rudolph