zplane èlastique Pitch Shifter

Important Update Below!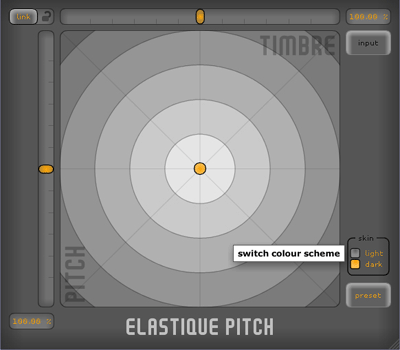 From Germany comes èlastique a RTAS plug-In for real-time pitch shifting. èlastique supports synchronous, phase coherent pitching of up to eight audio channels in real-time--there is no need to analyze the audio program beforehand. Furthermore, unlike most pitch shifters, the program's content--be it speech, single voice singing, classical or pop music or highly percussive sounds--does not require separate set ups or tweaky adjustments for best sound quality.
Features include Multi-channel support for synchronous pitching of up to 8 audio channels; Real time: no offline pre-analysis required; Program independence: high pitch shifting quality for all audio types (speech, single-voiced, classical/popular music, etc.); Phase coherence: absolute phase stability between all channels; MIDI input: for pitch control; Formant shifting: shift formants independent from pitch; Factory presets: for typical film pull-ups/pull-downs.  
èlastique was an immediate hit when I installed it into a Pro Tools HD 3 Accel system at my Tones 4 $ Studios. I liked it for two very important reasons: great sound and the intuitive and simple interface. Looking kinda like a virtual Roland Kaoss Pad, the GUI has two main faders. Pitch is controlled with a vertical fader while a horizontal fader controls timbre or the formants. (Formants are a set of resonant frequency bands associated with the formation of vowels) Upon the plug-in's instantiation; both faders are linked so that a single center joystick or "puck" simultaneously adjusts both to preserve the formant/pitch relationship. But you can unlink the two faders to alter pitch and timbre separately for fantastical effects.
My first use was to create a twelve-string guitar sound from a single guitar track. By copying the guitar track, placing it 150ms ahead of the original (èlastique's latency at 48kHz) and shifting it up a perfect octave (+12 semitones) I was able to mix that high sound with the original for a great twelve-string sound that was glitch-free and very real sounding.
Since èlastique is MIDI controllable, I next copied a Fender bass guitar part, again offset it and "replayed" the part on my USB/MIDI keyboard controller. Striking a middle C (C3) plays the original pitch and I had an octave above and below to select "new" notes--this is a fabulous ability--especially since the bass player had left the building!
You can also shift timbre (formants) independent from pitch for a smoothed out, more realistic sound. The plug-in also comes with a set of common film/TV pull-up/pull-downs presets fixing the audio when converting video or film frame rates. The èlastique pitch plug-in is available for RTAS on Mac OS X and Windows computers for $499 MSRP. Much more information at: www.products.zplane.de/.
March 15, 2010--zplane announces elastique Now In Fully Native Formats.

Version 1.1 of Elastique Pitch is now available for $199 USD MSRP!

It now runs as a RTAS, VST and AU plug-in for both Mac OS X and PCs Windows.

Free Update for all existing customers with many bug fixes and iLok no longer required.
---
Web Page design is copyright © 2009 by Barry Rudolph