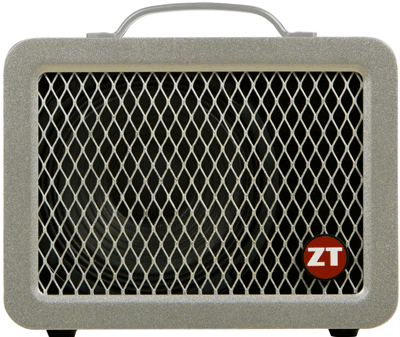 The Lunchbox is one of two new portable guitar amps from ZT Amplifiers in Berkeley, CA. The other is the Club Amp and it features a larger twelve-inch speaker as opposed to the Lunchbox's 6.5-incher. I received the Lunchbox 2 for review and was immediately taken by its compact size and its clean and quality construction. Oh and the sound is killer!
Even using the internal speaker, it is amazing loud and punchy. The Lunchbox measures a diminutive 7.3 x 9.8 x 4.4-inches and weighs 9.5-pounds. It's made out of MDF (that's high density fiber board) and is the size and shape of a child's lunchbox but puts out over 200-watts into its internal 6.5-inch speaker. An all solid-state design, ZT claims it'll produce 125dB SPL (at 1m) from its sealed enclosure.
We found the Lunchbox , when "barefoot"--using only the internal speaker, to be loud enough to drive you out of the room. It has tremendous headroom and is very responsive to your playing and your guitar's controls--crunch to clean and back--it's all in your hands like it should be. The sound is classic Blues Rock--you can get your David Gilmour on here or go clean like the classic Roland JC 120 Jazz Chorus or the early 80's Gibson Norlin Lab Series L3 60-watt solid-state amp as used by BB King.
There is no doubt you'll hold your own on a small stage if the amp is placed physically high enough to cover the audience. By NOT switching the internal speaker off (with the back panel switch), you could use the amp's speaker for your stage monitor and a connected cabinet for the pumping the room--beautiful!
Controls include Gain, Volume, Tone and Reverb. But don't confuse the reverb with a Fender spring--it's more of a subtle ambient sound and we found little use for it. I liked the headphone/line output jack with level control, the 1/8-inch stereo input for connecting and mixing in audio from an iPod. We did hook up to a 2 X 12 Vox cabinet and the sound cleans up slightly requiring a higher Gain/Volume setting. We tried low tuned guitars (D, C# and a baritone) and the amp's "fast' response makes it perfect for heavy metal rhythm guitar players--great for fat sounding "chugging."
Perfect for Pop, Country and Rock players of all styles, the Lunchbox amp from ZT Amplifiers represent a new paradigm--a brilliant piece of gear that shatters all previous perceptions of what makes a fine guitar amplifier. It sells for $349 MSRP and for more information check www.ztamplifiers.com.
---
Web Page design is copyright © 2009 by Barry Rudolph