Aguilar Amplification Agro Bass Overdrive Pedal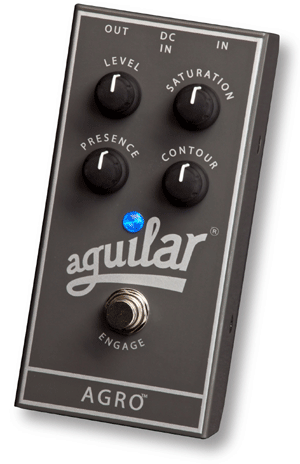 Aguilar's AGRO stomp box is based on the saturation channel of their AG 500 bass head and features the ability to produce any sound from super clean boost to warm saturated overdrive to full, over-the-top distortion. It does all this without sacrificing the low end of your bass instrument's sound or losing its musicality.

Bassist/songwriter Jack Conrad and I tried AGRO here at my Tones 4 $ Studios using an early Yamaha prototype four-string bass with passive-style pickups. We connected the bass and Agro to ZT Amp's The Club amp for monitoring and, at the same time, direct through my Hot Wires DB500 passive direct box to my RTZ mic pre-amp for recording into Pro Tools. Agro's four knobs, Presence, Saturation, Contour and Level offer complete control over everything about the finished bass sound.

Saturation sets the distortion amount and Contour, centered at 900Hz, scoops or boost mid-range for more or less aggression. The Presence knob boosts/cuts (+6dB/-20dB) at 4kHz and is important especially for live stage sound when you're looking for more attack to cut through. But the main plus for this pedal is that even at the most extreme settings, you can still hear the actual notes you're playing. As we suspected, the Level and Saturation controls interact--more saturation level means you'll be turning down level ensuring that you'll be able to get the distortion you want at any volume level.

A great value for a pedal this good, the AGRO sells for $179 MAP and is built in a bulletproof, all-steel box with easy access to the nine-volt (120 hour average life) battery. We also like the in/out-bypass button with blue LED--in bypass, the pedal passes signal even if your battery dies. But pickup the optional universal power supply and you'll never have to rely on that feature! For more information, visit: www.aguilaramp.com.






---
Web Page design is copyright © 2010 by Barry Rudolph