Alesis DM10 Pro Electronic Drum Kit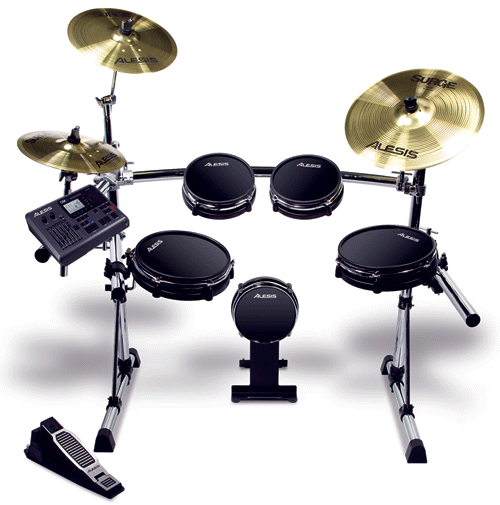 The DM10 Pro Electronic Drum Kit is the result of a lot of research and development by Alesis and it includes the new DM10 sound module and 12, 13, and 16-inch Surge electronic metal cymbals with chokes and 12-inch hi-hats. But the features don't stop there because you also get both eight-inch and ten-inch Alesis' RealHead dual-zone drum pads with Mylar® heads and a solidly built ErgoRack mounting system.

The DM10 module has 12 inputs for triggering real, multi-dynamic layered samples of studio-recorded drums and cymbals. All the good ones--acoustic drum sounds from the best manufacturers include rim shots, rim clicks and different stick-placement sounds on the cymbals. The elusive hi-hat is fully covered with the DM10 knowing how open or closed the pedal is, how hard it is struck and other variables controlling 40 different sounds including foot chick and heel splash.

There are huge collections of snare drums, real American, Canadian, Chinese and Turkish cymbals, and electronic beat-machine sounds. Any new third-party sounds upload to the unit via the USB jack and interface.

The DM10 allows for custom configurations and the top-panel mixer is right on the mark for creating any mix you'd like. Drummers can also use the DM10 as a USB trigger-to-MIDI interface for performing and tracking with software drum kits such as BFD™, Toontrack™ and Reason™. Drummers can play along with the tracks using the DM10's internal sequencer and mix in a track coming from an iPod®.

The DM10 Pro Kit sells for $1,799 MSRP. For more information, check www.alesis.com/dm10prokit.







---
Web Page design is copyright © 2010 by Barry Rudolph