Arobas Music's Guitar Pro 6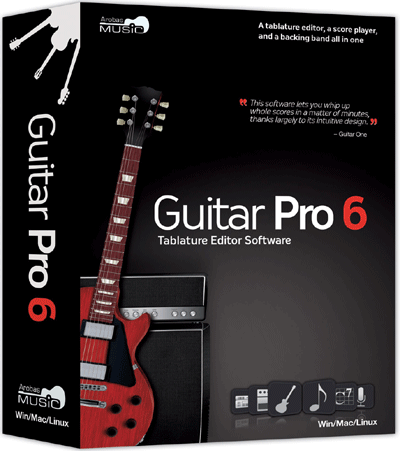 Distributed by eMedia, Guitar Pro 6 multitrack tablature editor for guitar, bass, banjo, ukulele and other instruments editor is much more than an upgraded version of Guitar Pro 5 because it was developed from the ground up by Arobas Music to include a more intuitive interface coupled with an improved Real Sound Engine (RSE). With over 40 new features, you get notation symbols such as rhythm, slash, simile marks and multi-measure rests, configurable tones, tap tempo, and jazz fonts.

There are 100 instrument sound samples available for the realistic playback of your scores and the over 50 real-time stomp box effects (like flanger, phaser, chorus, distortion) and amps are accessible for any track via a pull-down menu. Sweet! Along with a parametric equalizer available for each track, there is also a digital tuner, speed trainer, fretboard and keyboard tools, a chord diagram generator, a scales tool and a metronome.

Guitar Pro 6 is a complete tool for beginning and accomplished guitarists alike to improve their skills, compose or simply accompany themselves with pro-sounding backing tracks. Guitar Pro 6 is recognized as the standard in guitar TAB editing and used by millions of guitarists worldwide with thousands of scores available on the Internet. Guitar Pro 6 sells for $59.95 and works on Windows (XP/Vista/Windows 7), Linux (Ubuntu) and Macintosh (Mac OS X 10.4+) compatible. For more information, please visit: www.emediamusic.com.







---
Web Page design is copyright © 2010 by Barry Rudolph