Audio-Technica 2000 Series Wireless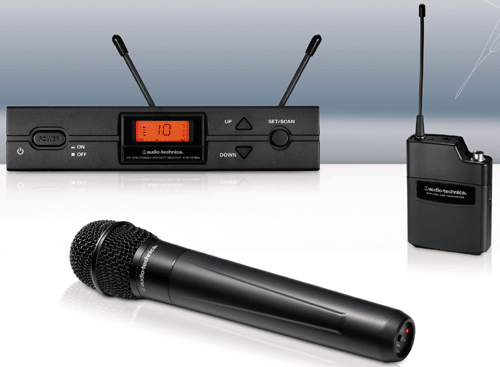 A-T has added the ATW-R2100a receiver, the ATW-T210a body-pack transmitter and the ATW-T220a handheld transmitter to their 2000 Series wireless system. The 2000 Series is a frequency-agile UHF system that uses true diversity to always select the best signal from two receiver sections. The R2100a receiver features automatic scanning for unused channels making setup a breeze. A pre-coordinated integral channel plan allows for simultaneous operation of any of the ten channels in a given location, in one of two UHF frequency ranges.

The ATW-T210a UniPak body-pack transmitter features a latching cover to protect the internal controls and inputs are available for your own low impedance microphone and/or high impedance musical instrument or line input. The unit supplies DC bias voltage to power condenser microphones and a red LED power/battery indicator glows when the transmitter is turned on and running on good batteries. To conserve battery life even more, an RF power switch toggles high or low transmitter power modes.

The redesigned ATW-T220a handheld transmitter uses a PRO 41-type dynamic unidirectional capsule to maintain sonic consistency with A-T's wired microphones. A rugged steel head case with integral foam pop filter protects the capsule and both transmitters function with standard AA alkaline batteries for over eight hours of operation.

The ATW-2110a Basic System includes the ATW-R2100a receiver and ATW-T210a UniPak transmitter for $429 MSRP. Other system configurations are available so check in at: www.audio-technica.com.







---
Web Page design is copyright © 2010 by Barry Rudolph