Audio-Technica AT2021 Cardioid Condenser Microphone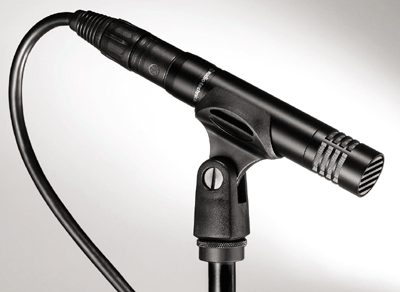 At $139 MSRP the AT2021 is an amazing value for the home or project studio--and oh, it sounds good too! Small diaphragm condenser microphones are my favorite for acoustic guitar; drum overheads (you'll need two of them), piano or any percussion instrument because the element's low physical mass responds quickly to capture the true nature of the transients that make up a large part of the sound of those instruments. Besides a good transient response, A-T's AT2021 also excels in high SPL recordings (Sound Pressure Level--this mic is rated at 145dB!) such as close in mics on snare drums or loud brass instruments.

It turns out that, by offering it in a cardioid-only pickup pattern, the manufacturing cost of the AT2021 is reduced and the pickup of sounds coming into the sides and rear of the mic is diminished. This allows for better isolation of the instrument or voice in front of the mic from other much louder instruments playing in the same room at the same time.

Other good things are: corrosion-resistant gold-plated contacts in the XLR connector, wide 30Hz to 20kHz frequency range, a permanently charged condenser element or electret and both a stand clip and soft protective pouch are included. The AT2021 is also available packaged with the large diaphragm AT2020 condenser in the AT2041SP Studio Pack. More information is at www.audio-technica.com.







---
Web Page design is copyright © 2010 by Barry Rudolph