Audio-Technica AT4080 Ribbon Studio Microphone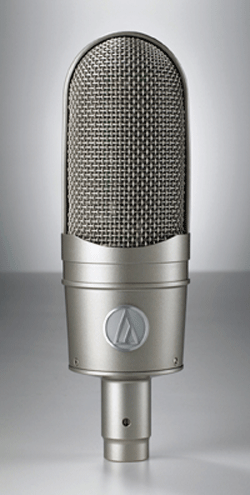 One half of a new pair of first-ever ribbon mics from Audio-Technica is (the other is AT4081) the AT4080, a new studio microphone in A-T's 40 Series. The AT4080 solves many of the legacy problems common to most traditional ribbon microphones while providing the best in a warm and natural sound.

Besides A-T's noteworthy mechanical design and durable, handmade quality, the AT4080's secret to success lies within its ribbon cartridge design that minimizes lateral flexing for durability while insuring accurate sound capture. Ribbon distortion from wind and plosives is all but eliminated by an ultra-fine inner mesh and the internally stabilized enclosure and acoustic baffle system. Powerful N50 rare-earth neodymium magnets and a large output transformer provide high output level while the dual ribbons increase sensitivity and SPL handling capability.

The bi-directional AT4080 looks and should be used like a side-address condenser; it is recommended for vocals, horns, strings, acoustic instruments, drum overheads, orchestras, ensembles and guitar cabinets.

For a vocal session, I set up the AT4080 using the included AT8449/SV shock mount and David Pearlman's tube condenser (for reference) here at my Tones 4 $ Studios. The A-T requires phantom power for the active pre-amp inside and needs only about 35dB of mic gain for medium loud vocals. The top of the A-T is rounded off--reminiscent of the old RCA 77DX vintage ribbon mics and the AT4080's sound also reminded me of that classic model.

The sound is thick--with a warm, buttery and smooth overall feeling. Many singers, who have a strident or nasally sound would greatly benefit from using this mic in the studio. I found the AT4080 great for obtaining a different kind of mic presence on any instrument--different from the typically harder and brighter sonic presence of a lot of condenser mics. I found the mic not particularly sensitive to plosives--certainly not as prone to them as the Pearlman.

By comparison the Pearlman, being a Neumann U-47 copy, require 30dB of gain and exhibited a more forward mid-range cut in its sound. While a useful trait, it makes the two mics an "oranges to apples" comparison--only usable as a reference point. In addition to the shock mount, AT4080 comes with a dust cover and a protective carrying case and sells for $1,245.

For more information, please visit www.audio-technica.com.







---
Web Page design is copyright © 2010 by Barry Rudolph