Audio Engineering Explained from Focal Press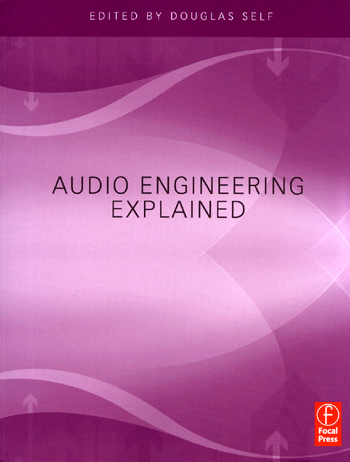 A kind of "greatest hits" package of audio engineering reference guides from publishers Focal and Newnes, author Douglas Self uses exquisite taste and judgment in presenting and teaching only the most currently relevant aspects of contemporary audio engineering practices.

Included are chapters taken from books by audio gurus like the late John Eargle to Glen Ballou to Bill Whitlock to Philip Newell and Keith Holland plus an excellent chapter treatise on audio power amps from Self. Each chapter capitalizes on their expertise laid out in accurate and technical detail that I found both rewarding and a challenge to understand fully.

Douglas Self, a senior designer of high-end audio amplifiers and contributor to Electronics World magazine, divides the book into eight parts starting with the fundamentals of audio and acoustics and then on to practical guides on microphone theory, pre-amplifiers and mixers, power amps, loudspeakers, digital audio that includes DSP and MIDI, acoustics and sound reinforcement by Don and Carolyn Davis with Floyd Toole, and finally, recording studio design.

Audio Engineering Explained from Focal Press turns out to be a very useful compendium of useful and diversified information contained in one volume. With many immediately applicable case histories and examples you can use right now, the book is a must-have for anybody who works in audio in any capacity and at any technical level. It's from Focal Press, an imprint of Elsevier for $49.95.







---
Web Page design is copyright © 2010 by Barry Rudolph