Beatles Gear from BackBeat Books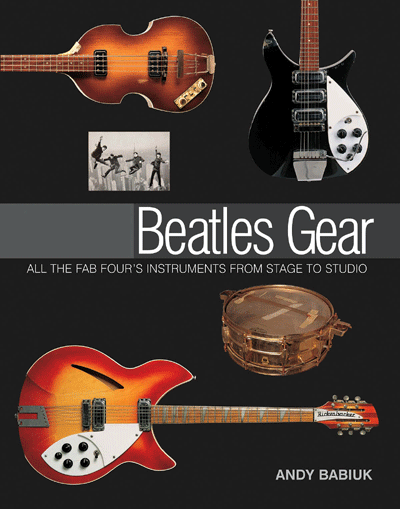 As a would-be Beatles historian, I couldn't wait to get my hands on Andy Babiuk's bestseller Beatles Gear now as a new revised, hardcover version. This lavish, oversized coffee table-style book is the definitive resource on the Fab Four's gear. You'll see examples of or the actual guitars, basses, drum kits, sticks, and strings those guys used to make Pop music history.

I found interesting reading about the way the Beatles demanded so much out of their (at the time) primitive music and studio gear--they never settle for less than the very best sounding or newest instruments they could get their hands on. It seemed they were always on the quest to sculpt unforgettable songs using a fascinating range of sounds from the available instruments around them. One of the first things George said when he (and the rest of the Beatles) learned they had been scheduled for their first EMI recording session: "Please order four new guitars!"

Like the previous version, Beatles Gear is laid out in chapters by year starting with 1956/57 with John Lennon's first guitar, the Gallotone Champion. Probably the most interesting chapter/years for me is 1965 because of all the new instruments they acquired including the Rickenbacker 12-string electric, Vox Continental organ, Lennon's Mellotron and a few American-made Fender guitars.

After the Beatles stopped touring, chapters about years 1966 to 1970 focus on their studio work and tells the stories of all the instruments used in the production of their albums in those years. This includes instruments resident at Abbey Road studios such as the Challen Tack piano and the Lowrey Heritage Deluxe organ as used on "Lucy In the Sky With Diamonds."

Beatles Gear by Andy Babiuk is required reading for any one interested in the guitars, amps and drum kits used by the Beatles. As a history of music making of the times, there is much more to discover about the Beatles and the gear they, more than anybody else, made into classics.

Beatles Gear is available for $40 and is published by Backbeat Books, an imprint of Hal Leonard. It's available through Music Dispatch at www.musicdispatch.com.




Beatles' Gear (3rd Revised Edition)
---
Web Page design is copyright © 2010 by Barry Rudolph