DTS Neural UpMix™ Plug-in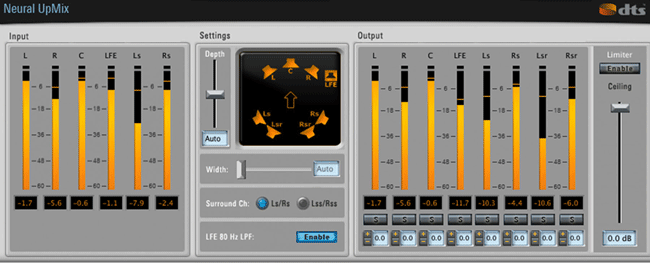 In a nutshell, Neural UpMix is a Pro Tools® plug-in (also VST) that "up mixes" or converts existing 2-channel or 5.1 surround sound mixes into discrete 5.1 or 7.1-channel surround audio. Anybody mixing surround sound for film/TV in a DAW will find Neural UpMix to perfectly preserve the spectral balance and nuance of the music, dialog and effects they have worked so hard to create. Neural UpMix is essential because DTS-HD Master Audio is now the de-facto Blu-ray audio standard plus 7.1-channel audio is appearing on more and more titles including the new 3-D Blu-ray movies.

I saw Neural UpMix in action at DTS's surround listening/audition room and was impressed by the plug-in's sonic accuracy and faithfulness to the original source audio. DTS claims, that when Neural UpMix-processed audio is down-mixed to stereo, such as in home stereo systems, there are no disturbing digital artifacts or anomalies generated.

The simple interface in the Neural UpMix GUI includes a Width control (when up mixing from encoded stereo (or LtRt) that controls the ratio of the discrete center channel (where most dialogue is heard) to the phantom center channel as produced by the left and right front speakers. The Depth control sets the overall surround spread for 5.1 up mixes or sets the rear surround spread for 7.1 up mixes. The plug-in also includes a peak limiter to control any distortion causing peaks and all its parameters are automatable. Furthermore, Neural UpMix runs in AudioSuite for faster-than-real-time rendering of up mixes.

Neural UpMix sells for $449 and is one of two new tools from DTS whose DTS-HD Master Audio Suite™ v2.5 is the fastest, lossless Blu-ray Disc audio encoders on the market. Please visit www.dts.com for additional information.







---
Web Page design is copyright © 2010 by Barry Rudolph