Elixir Strings Patch Cables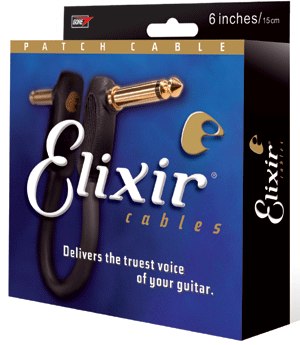 Elixir Strings, whose Elixir Guitar Cables I've review in these pages before, expands the line with two new patch cables. They come (so far) in six and twelve-inch lengths and in a right-angle-to-right-angle plug configuration. Like the regular Elixir cables, these shorties have reduced capacitance that minimizes tone loss--an important issue when using these to connect multiple stomp boxes together.

All Elixir Cables feature dual shield construction that guards against both electromagnetic interference (such as near by broadcast radio signals, errant CB radios, cell phones) and physical handling noise. The full line of Elixir Cables also has an abrasion-resistant jacket to allow maximum flexibility while providing both superior cut and crush resistance.

I'm using my Elixir Patches right now to interface my guitar tuner to my recording rig. The right-angle plugs reduce clutter by allowing the cables to be more or less hidden under the tuner pedal itself. Sweet!

For more information on Elixir Cables and Elixir Cables dealers, please visit www.elixirstrings.com.







---
Web Page design is copyright © 2010 by Barry Rudolph