Evans New Inked By Evans Program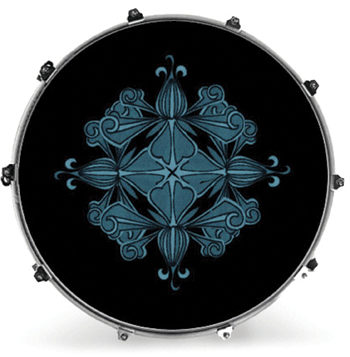 Evans new program allows drummers to print large, color graphics on bass drumheads with Evans' new high-resolution printing system. This will all be available soon in 2010 at www.inkbyevans.com.

Right now there are three categories to choose from: Showcase is a collection of licensed designs by musicians and graphic designers including Alchemy Gothic™, Lethal Threat™, Al McWhite, and Woodstock artwork; Gallery features interesting textures, nature scenes, abstract photography and graphics; while Custom may prove to be the most popular because you'll be able to upload your own graphics and/or add (by just typing) your own words, band name or current slogans and song titles over the Gallery's images.

So you will be able to 'tart up' your drum kit with just about whatever artwork you want in a professional way on a high-quality Evans bass drum head. You can have your band name (old school style); show off a menacing graphic to express your feelings at that moment, or promote a worthwhile cause your band is interested in. Get several of these made and change them often!

For more information on Evans drumheads, please visit www.evansdrumheads.com.










---
Web Page design is copyright © 2010 by Barry Rudolph