Focusrite ISA One Digital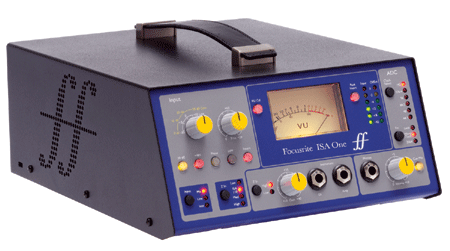 The ISA One Digital is an analog microphone and instrument pre-amp with stereo cue facilities and built-in A/D converter. Now standard, the converter was previously an option and it provides AES/EBU, S/PDIF and SMUX-compliant ADAT outputs for the unit. It boasts an 118dB dynamic range and bypasses your existing DAW's I/O for a pristine signal path straight into Pro Tools, Logic, Nuendo, Sonar--any of them. The ISA One has the same microphone pre-amp section found in the super high-end Focusrite ISA 110 pre-amp/EQ and the channel strips in their million-dollar Forte studio console.

There are rear panel XLR and TRS mic/line connectors and a separate DI instrument input--you're able to record a mic and DI at the same time. Besides gain up to 80dB gain, polarity flip, there is a mic impedance selector, 48-volt phantom on/off switch, a 75Hz rumble filter and an insert in/out for connecting an outboard processor.

I tested the ISA One here at my Tones 4 $ Studios and found it to be a complete professional system complete with a cue system that monitors either your DAW or the live mic and/or line sources directly for zero latency. I liked the unit's desktop look, large VU meter and most of all, its lush sound.

I recorded both vocals and a Martin D-28 acoustic guitar using a Violet Wedge large diaphragm condenser mic without EQ or compression. It is exactly like I remember using the original ISA 110 module except it is easier to "ride gain on the fly" with the One's 20dB of fine gain control and larger knob.

I used both channels to record a bass and a guitar--direct bass and a Royer R-121 mic on the amp. I monitored through the unit's headphone system and found it to sound super quiet and clean with plenty of power to drive my 55-ohm AKG K271s phones loud.

The ISA One Digital sells for $799 MAP and the original ISA ONE (without A/D converter) sells for $499 MAP. They are both ideal for lap top-based portable rigs but I'm recommending the ISA One Digital because its built-in superior converter, Main and Instrument channels, headphone system, and complete metering facilities all deliver. More info at: www.focusrite.com.







---
Web Page design is copyright © 2010 by Barry Rudolph