iZotope Music & Speech Cleaner from eMedia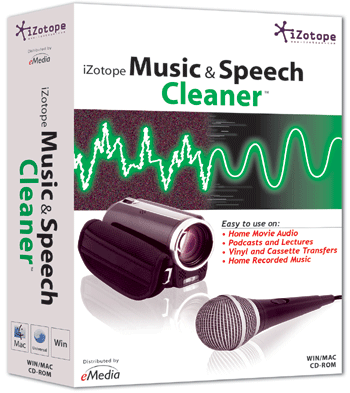 If you do any location sound and/or video recording at all, you should be using iZotope's Music & Speech Cleaner software to get your presentations to a more sonically enjoyable state. For audio soundtracks, MSC is the perfect "detergent" to wash away excessive hum, pops, clicks, and even constant background noise from air conditioner equipment or other machinery.

After this processing, MSC continues with the ability to enhance speech in the case of narration recordings or music tracks to liven up poorly recorded performances.

Usually even the most remedial cleanup and restoration of audio generally implies using very tweaky and expensive software. But iZotope has folded versions of their professional processing tools into one easy to use program.

The five processing sections available in any combination are: Reduce Noise--for broadband trash such as tape hiss or A/C noise; Reduce Hum is for removing AC hum caused by ground loops etc.; Reduce Pops is for de-clicking audio from records; Enhance Voice and Music are two specially tuned processors for punching up level and clarity of either narration or music recordings.

MSC includes an intuitive step-by-step interface to show you how to dial in just what your audio requires--it works with other running software like Apple's iMovie or Adobe Premiere Elements. Cleaned files can be imported into iTunes to create MP3 or AAC files and then burned to an audio CD.

If you want to do it right and do it once and for all, get iZotope's Music & Speech Cleaner on CD-ROM at $39.95 MSRP for Windows (XP/Vista/Windows 7) and Macintosh (OS X 10.4+). For more information, visit www.emediamusic.com/.







---
Web Page design is copyright © 2010 by Barry Rudolph