Trust: Photographs of Jim Marshall from Omnibus Press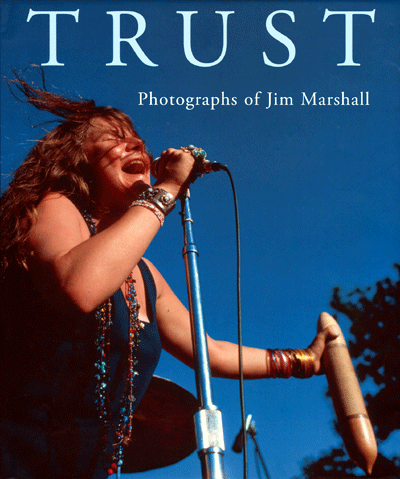 You don't so much as "read" a book like Trust as you "drink" in its images. From the first few photos, it's apparent that Trust is about Marshall's ability, made possible by his demand of total access, to capture musicians not posing but totally relaxed, or perhaps during vulnerable moments, or out of character--times they may not be beautiful or heroic--or at the least not as publicly perceived.

Jim Marshall launched his professional photography career in 1960 in San Francisco and soon his reputation grew because of a fearless approach in describing musicians' character by using unique settings as backdrop for his illuminating photography. He was chief photographer at Woodstock and was the only photographer allowed backstage at the Beatles' final concert. Marshall has virtually "lived" with subjects from Miles Davis to Johnny Cash, Bob Dylan and The Beatles, Jimi Hendrix, The Rolling Stones, Janis Joplin and The Who as well as his recent sessions with Velvet Revolver.

Now, for the first time, select photographs from Marshall's extensive archive are published in book form. It includes many rare images that not only document--as an eyewitness to these artists and their world--but also include his personal influence, as he became a friend and confidant.

Personally, I have many books of photos of famous music people and I've always noted that Jim Marshall's always tell a different story whether it is the Beatles walking across the field at Candlestick Park at their last concert or the first shots of Cream in the U.S. His photos magically transport me to that exact moment in time making this book inspirational and a permanent fixture in my recording studio. This is a must-have book!

Trust: Photographs of Jim Marshall sells for $34.95 From Omnibus Press, check www.omnibuspress.com for more.




Trust: Photographs of Jim Marshall
---
Web Page design is copyright © 2010 by Barry Rudolph