Monster Cable's Turbine Pro In Ear Speakers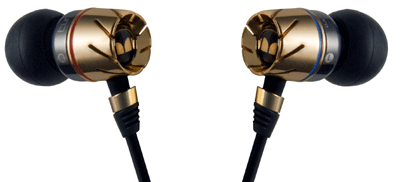 Audiophile stalwart Monster has entered the in-ear headphone market with a re-thinking of the whole concept and how compact, in-ears can sound closer to what studio recording engineers and producers demand from monitor speakers. The first high-performance in-ear headphones engineered specifically to deliver true reference-quality sound are the all-metal Turbine Pro In-Ear Speakers. These "monitors" (and I mean that word in the full professional sense) have already been extensively tested onstage as in-ear monitors and in the sonic microscopic world of the professional recording studio.

The new Monster Turbine Pro headphones come (right now) in two beautiful designs, gold with black chrome, and copper with bright chrome. The golds (reviewed here) have a slightly more pronounced low-frequency response for punchy bass, while the copper version maintains a flatter response.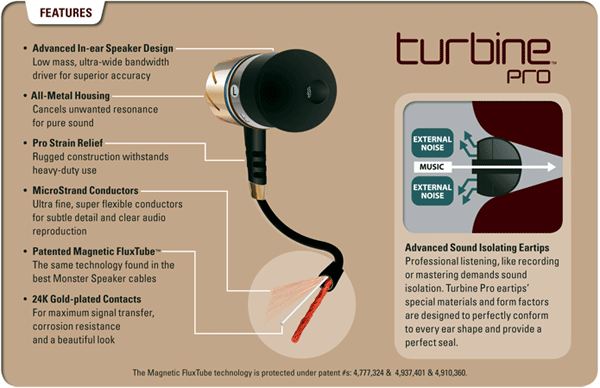 I connected my pair of Monster Turbine Pro Golds to my Aphex Model 454 HeadPod headphone amp and listened to some of my current Pro Tools record mixes. The first thing I suggest is replacing the stock tips with the Super Tips provided in a special foil package. This will insure a perfect ear canal seal and produce that big bass sound!
But more important to me is how beautifully analytical they sound--meaning I could hear quite clearly any problems with the mix--blemishes I didn't notice on my monitor speakers.
The Turbine Pro Golds are nothing like any ear buds I've ever heard! If I was in a foreign listening situation and not sure what I was hearing, I could plug in these Golds and know straightaway what's up!
Monster Turbine Pros come as a complete kit. There are three sizes of ear tips included, along with traditional foam tips, and two sets of triple-layered ear tips for whatever you're ears require. Other extras are: an attractive soft sewn carrying pouch and a matching clip pouch that will house the ear tips or headphones. Lastly, the company offers a one-time Lifetime Replacement Guarantee--breaks your pair (you won't) and they're covered.
Monster Turbine Pro In-Ear Speakers sell for $299.95 per pair or $329.95 with Monster's ControlTalk™ headphone cable that interfaces with an iPhone®, iPod® and other smartphones for full music playback and hands-free calls. Much more information at: www.monstercable.com/productdisplay.asp?pin=5466.
---
Web Page design is copyright © 2010 by Barry Rudolph