MXL Cube Condenser Mic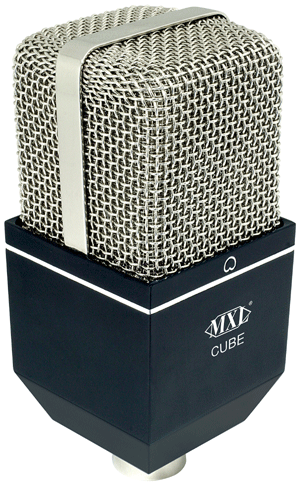 Condenser mics, being typically more sensitive and prone to easy damage, are not usually put very close to drummers and drum kits. If they are used on drums, it is with caution and at some distance. MXL Microphones, the professional audio division of Marshall Electronics, displayed their new Drum Cube microphone at the 2010 Winter NAMM and I was on it immediately to see what it'll do to improve recording drum kits.

The cardioid only Cube has a gold-sputtered, 6-micron diaphragm and a high SPL rating great for loud drums. It requires +48-volt phantom power. With a frequency response of 20 Hz to 20 kHz, it'll take 132dB SPL yet has only 14dB of equivalent noise and a 20mv/Pa sensitivity rating. The black-bodied MXL Cube is built tough in durable metal with a shiny chrome screen and includes a hard mount mic stand adapter.

So drummer Joey Ayoub and I gave it a try at his Sound Salon Studios in Hollywood, CA. Will it distort with loud drums or play nice? We tried the Cube all over his Yamaha kit and found it to work best on an 8 X 8-inch high tom. The Cube put out a big signal into the studio's Control 24/Focusrite pre-amp and we got a good balance between the drum's sharp initial "hit" and its basic tonality and character. Later, I also found the Cube very good for bongos and small percussion instruments such as tambourines and shakers.

The smaller size of the Cube and being a side-address condenser make it ideal for getting in close to toms around a kit--there is no XLR cable sticking up as the case with stick dynamics. Using the stylish Cube also affords a cleaner sightline for the entire kit--great when used on live stages.

The MXL Cube sells for $159.95 MSRP. Check www.mxlmics.com.







---
Web Page design is copyright © 2010 by Barry Rudolph