MXL Revelation Variable Pattern Tube Microphone

The MXL Revelation mic is the follow-up to their popular Genesis tube microphone and expands the Studio Collection Series. The hefty Revelation (weighs over two pounds--requires a proper mic stand!) has a custom body design that minimizes resonance. What is very unique to me is, unlike most tube condenser mics, it uses a hand-selected EF86 pentode tube instead of the typical triode. Any guitar amp connoisseur will tell you about the special sound of guitar amps that use EF86s in the pre-amp section. Those amps, like this mic, deliver rich harmonics and a warm tonal character.

Right away in my Tones 4 $ Studios I immediately heard the unique character of my cool-looking midnight blue Revelation as compared to some other tube condenser mics I own. It has a dual gold-sputtered, 6-micron diaphragm capsule and I liked the continuous variable polar pattern selector control on the hefty power supply.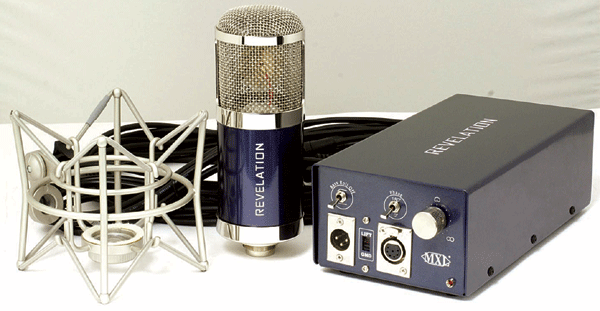 I keep the PS at my mixing position so that I am able to "artistically" adjust the pattern anywhere from omnidirectional to figure of 8 to cardioid or anywhere "in the cracks" between for just the right balance between my recording space and the direct sound coming from my vocalist. There is a slight wait for the capsule to recharge when changing patterns but it's no biggie and in any mode, I found this mic sounded wonderful on everything!
Other features include a -10 dB attenuation pad, a bass roll-off switch that gets rid of rumble from my A/C or the streets outside--it's also handy to reduce the proximity effect of super closer singers--a vocal effect I like. I found the Revelation to excel in every use in the studio from vocals, to acoustic guitar, to drum overheads, room miking or even grand piano--but get two of them for those applications.
The Revelation includes an aluminum flight case, Mogami® cables--15ft 7-pin and 15ft XLR, Revelation power supply, shock mount, and cleaning cloth. It sells for $1,495 MSRP and for much more information check www.mxlmics.com.
---
Web Page design is copyright © 2010 by Barry Rudolph