PMC DB1S-A II Powered Monitors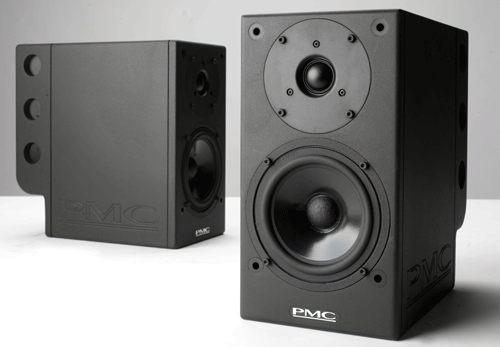 The smallest and most compact of the PMC active monitor speaker line, the DB1S-A II measures 11.4H X 11.1D X 6.1W inches, weighs 5.1kg, and offers the dynamics and mid-range detail of much bigger units. Its Advanced Transmission Line (ATL™) bass loading technology and PMC's 200W, DS-001 Class-D power module combine to make a dependable, high-resolution monitor you can trust in your smaller music mixing workspace. I set of five of them are ideal for a 5.1 system when partnered with PMC's TLE1S powered sub. Doubling from 100-watts to now 200-watts is said to reduce distortion and produce a significantly cleaner, faster more neutral presentation across the full musical bandwidth.

I set up my pair of evaluation units on wooden plinths on either side of my Pro Tools screen here at my Tones 4 $ Studios. They come in a flat black color and connect to my Cranesong Avocet Monitor controller using XLR cables. I normally mix on much bigger speakers with large woofers and check on smaller speakers.

Essentially I am verifying the balance of the all-important mid-range that often is obscured when listening loud on larger, wide-range systems. In the past, my pair of Yamaha NS-10Ms have served me well for this process but I put up with a lot of their issues and compensate too much--it's getting old too! With the PMC's, the mid-range is clearer and I hear further into the mix. For me they give me an analytical "take" on my mix--I hear more things that need fine-tuning and reevaluation of EQ, reverb levels or compression. On my mains I can only hear these details when listening in solo.

The useable frequency response of the DB1S-A II is 50Hz-25kHz and I can verify that they will provide a peak SPL of 108dB at 1 meter away--loud for such a small footprint. The low frequency driver has a 140-mm cast alloy frame while the high frequency unit is a 27-mm diameter fabric soft dome model. The crossover frequency is 2kHz.

A fine upgrade for any studio, I like the DB1S-A II's small size, accurate and clean sound, and attractive look. A pair of the PMC DB1-SA IIs will set you back $2,999 MSRP and for more information, check out: www.pmc-speakers.com. Options include: magnetic shielding, TLE1S Active Sub, and custom stands.







---
Web Page design is copyright © 2010 by Barry Rudolph