PreSonus StudioOne Pro
PreSonus StudioOne Artist

See Update Information Below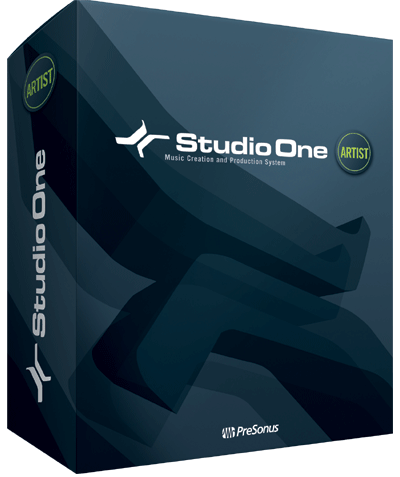 Surprising (to me anyway) PreSonus jumps into the music creation/DAW world with two versions: Studio One Pro and Studio One Artist. For both Mac OS X and Windows XP/Vista, Studio One Artist ships with every PreSonus audio interface while the higher-end Studio One Pro builds on it and adds VST, AU, and ReWire support; a fully integrated mastering section; plus a totally professional feature set along with bundled content.

Both versions have a user-configurable browser, extensive drag-and-drop operation, MIDI mapping, auto-configuration with PreSonus hardware, unlimited tracks and plug-ins per track, support for the latest standards and technologies, and a convenient project Start page.

Under the hood, the Pro's audio engine automatically switches between 32-bit and 64-bit floating-point while the Artist version is locked to 32-bit. Both versions are compatible with any ASIO, Windows Audio, or CoreAudio audio interface. If you're using a PreSonus I/O, simply click on a saved I/O template, and the Session is ready to play music. StudioOne configures and stores an entire setup for each song, each computer and each device driver associated. This makes Studio One a truly portable system you can boot up "in-progress" sessions on any other computer and run them on any other I/O hardware.

There is a lot to like on my version of Studio One Pro--the clean GUI, the ease with which I could configure external I/O and devices, the easy way to get to tutorials (great when you're first learning new software), and the way most operations were single clicks away in the browser window. Actually the mixing and editing windows are easily resized to fit into one screen but you can re-arrange windows anyway you want.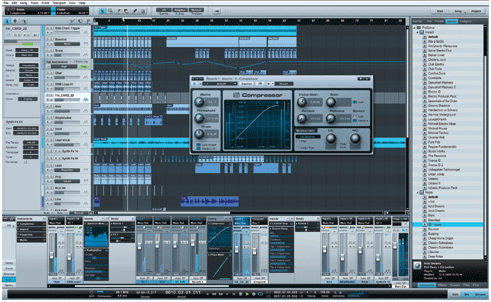 I also like the 20 different 64-bit Native effect plug-ins in Artist or 26 for the Pro version like Ampire (amp modeling) and Channel Strip and the useful virtual instruments. If that is not enough, know you also get Native Instruments Kore player, Guitar Rig LE and Toontrack's EZDrummer Lite plus 5.5GB of drum loops and other sample instruments that play on Studio One's Presence™ sample player.
As you might guess, there is way more going on here then I can talk about here., so check www.presonus.com and download a free 30-day demo. Studio One Pro is $399 and Studio One Artist is $199.

PreSonus Releases Studio One 1.5

Great Crossgrade Offer Below!
Baton Rouge, Louisiana, April 29, 2010. Steve Oppenheimer reports that PreSonus is now shipping version 1.5 of its Studio One™ DAW software. This major free update adds many important features and enhancements. Registered Studio One Artist and Studio One Pro users can get version 1.5 for free by logging into their PreSonus accounts and downloading the new version.
Key additions include support for video playback and sync for composing to picture, major enhancements to the Browser's drag-and-drop capabilities, the ability to draw your own automation waveforms, automation points that are locked to events, a new key-command editor, changing tempos within a event without slicing the event into separate events, and support for song and album art. A first-of-its-kind, built-in SoundCloud™ client enables you to upload audio files from Studio One directly to the Web. The MIDi features have been improved, and we've added a new MIDI file player in the Browser. We've enhanced the Native Effects™ plug-ins and added new ones. And that's by no means all that is in this impressive update. Let's take a closer look.
Those who create sound for picture will be delighted with the new video features. You can now import any QuickTime™ video into a Song for playback and sync, with adjustable video playback size and time offset. Simply drag-and-drop the video from the Browser into the arrangement to import it and, optionally, simultaneously extract the audio from the video and place it on a new audio track. A new Follow Edit Position helps sync to specific video frames by adjusting the playback-cursor position based on the current edit position.
Browser drag-and-drop functionality has improved significantly. Drag an audio event to a location in the File Browser to instantly export a new audio file to that location. Drag an Instrument Part to the File Browser to export a MIDI clip to a specific location on your drive. Drag any insert effect or virtual instrument from the Device Rack to the Effects or Instruments Browser to store a preset for the effect or instrument; alternatively, drag to the File Browser to export the preset to a specific location on your drive. 
You can now draw automation waveforms, and automation points are locked to selected events, so automation moves with the related events. A transform function lets you scale, stretch, and otherwise modify automation envelopes. An Undo history enables viewing and undoing all edits done since the file was opened, even if you have saved since then. A pitch-name editor is available in the drum layout, and you can save and load names from a pitch-name list. 
Version 1.5 adds a new key-command editor with Search and Learn features for creating and modifying keyboard shortcuts. The search feature finds specific key commands and shows which functions they trigger and also finds specified functions and displays the key commands to which they are assigned. 
Studio One now uses dynamic timestretching to change tempos within an event, rather than having to slice the event into separate events with different tempos. Constrain position when dragging events between tracks within a defined range, use a keyboard shortcut to fast-forward and rewind by measures, and accelerate scrolling while dragging with the new Turbo mode. When you select a region on a track, you can now extend the selection using Shift and the Up/Down arrow keys. When you select and remove a range in the Edit menu, the time in between regions will be deleted and the regions will snap together.
Album and Song Art can now be added to the Project and will be included in any exported Digital Release. A new menu item enables you to upload songs, art, and metadata to the SoundCloud Web service directly from Studio One. 
Support for REX files also has been added. If you right-click a REX file in the Browser and select "Send to new SampleOne," all slices are imported into SampleOne, and a new Instrument Part is created. Alternatively, you can drag the whole REX file, or individual slices, into the arrangement.
Several changes have been made to the Native Effects plug-ins. The Pipeline plug-in has gained a scope that enables you to manually alter the offset (in samples) for latency compensation. The scope displays send and return signals on top of each other and shows you the difference in real time, enabling you to manually adjust delay compensation, which is much more accurate than the automatic delay compensation found in some DAWs. In addition, latency compensation has been enabled for effects on input channels, so if you put an effect on an input channel, the software will ensure that the recorded track and processed input remain aligned.
Plug-ins can now be bypassed, and this can be automated. A new Level Meter plug-in provides an extra-large peak/RMS display. The PreSonus Presence™ virtual instrument has been redesigned, upgraded to 96 voices, and enhanced with effects, including modulation effects, pan, delay, distortion, gate, reverb, and a 7-band graphic EQ with settings for Lead (center frequencies range from 50 Hz to 10 kHz) and Bass (100 Hz to 6.4 kHz). The Impact™ virtual instrument adds Velocity layers, an envelope Hold parameter, and a multimode low-pass, bandpass, or high-pass filter with 12 dB or 24 dB slope. To load effects to a specific output channel, just drag the effect onto a pad. 
The Spectrum Meter plug-in and the spectrum meter on the Project page (in Studio One Pro) have gained average and peak-hold level indicators with variable time intervals for precise level analysis across the frequency spectrum. A new Scope plug-in provides in-depth oscilloscope functions for troubleshooting and measurement within Studio One, including three independent/overlaid channels with stereo and sidechain input selection and a mathematical operation channel (A-B, A-C, and B-C). 
Version 1.5 also includes several MIDI enhancements. The file Browser has gained a MIDI preview player that sends the MIDI data to a selected Instrument Track for playback. The player displays the MIDI file's length in bars and the number of notes in the pattern. Previously, MIDI quantization only affected Note On messages; now note ends (Note Off) can be quantized, as well. We've also added input quantization. The Gate plug-in now sends MIDI note messages--perfect for drum replacement. Furthermore, MIDI files can be expanded in the Browser, and individual tracks can be dragged into the arrangement.
The export features have been significantly improved, including the ability to export entire channels as stems, complete with buses, effects, and instrument returns. In addition, when you export adjacent regions (between markers), you can now create custom-length overlaps at the head and tail of each region so that you can crossfade between the exported files. This works sort of like a pre-roll and post-roll. Studio One creates a folder for each region with a name derived from the marker name.
Finally, version 1.5 adds new bundled content, including a 300 MB Piano soundset and a 1.5 GB Synth Session sampled synth collection for the PreSonus Presence virtual instrument, as well as a Studio One Expansion pack that includes hundreds of new presets for PreSonus Native Effects plug-ins.

6/10/10--PreSonus Offers Low-Cost Studio One Upgrades and Crossgrades
Baton Rouge, Louisiana, June 9, 2010-PreSonus is offering a bargain solution for those who are ready to dump their old-skool, bloated DAWs. Switch now to Studio One Pro 1.5, with its fresh 64-bit code; clean, intuitive interface; extensive use of drag-and-drop; integrated mastering section; and state-of-the-art audio engine--and save! But you must act now.
During the month of June, owners of any version of Pro Tools®, Cubase, Nuendo, Logic®, GarageBand®, Sonar, Live, Digital Performer, Acid, Record, Reaper, Samplitude, Mixcraft, or FL Studio can buy Studio One Pro for just $299--a savings of $100! This offer expires on June 30, 2010, so take advantage of it now! Cross-grade offer details are available at www.presonus.com/landing/s1_crossgrade-e.
And if you are already enjoying Studio One Artist but are hankering for the advanced features of Studio One Pro 1.5, now's your chance to upgrade at a bargain price! Buy your copy of Studio One Pro for only $149--a savings of $50--at your local PreSonus dealer or buy it right now online at www.presonus.com/landing/s1_crossgrade-e and get advanced mastering functions, 64-bit sound quality, video playback for scoring, VST and AU support, instant song upload to Web sites via SoundCloud®, and gigabytes more third-party resources. But don't wait: this offer ends June 30, 2010.
---
Web Page design is copyright © 2010 by Barry Rudolph