Princeton Digital Space Station SST-282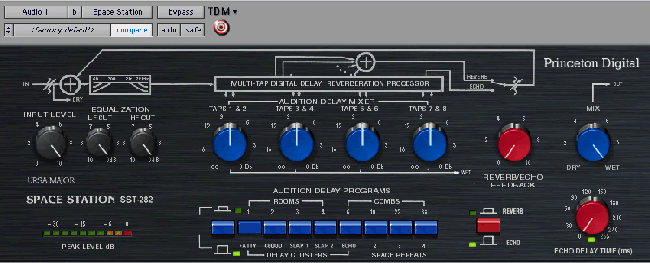 The boundaries between reverb and delay effects are beautifully "blurred" in Princeton Digital's Space Station SST-282 plug-in for Pro Tools HD (TDM only for Mac and PCs). This is a new software version of the original 3U Ursa Major Space Station swept multi-tapped delay hardware unit from 1981. The same unique blend of rooms, delay clusters and spacey repeat echo effects I remember are easily obtained with this new plug.
The Space Station has eight delay tap outputs (an adjustable mix of four stereo pairs arranged in ascending delay times) are placed along a delay line 255 milliseconds long with 16 presets of combinations of spacing patterns--as close as 1ms apart.
Space Station has two modes: Echo and Reverb. Echo mode has an Echo Tap control for feeding back a dedicated tap to the input up to 255ms later for creating typical echo delay effects like slapback and ricochet effects. Reverb mode uses an internal proprietary programmed randomization of all the taps that, when fed back, produce reverberation.
I installed Space Station and found the pictorial processor flow diagram on the GUI helpful but I really like the way this one sounds on so many different sources. There are loads of great factory presets to get you started and I liked the way the nature of the reverb or delay sound changes so much with just changing the setting of either the Reverb/Echo Feedback and Echo Delay Time controls.
I also liked changing the mix of the four stereo delay tap outputs for delays and reverbs anywhere from very short and tight to longer more spacey treatments. The shorter delay settings (below about 40ms) are great for the loudness enhancement of any track without sounding like delay. I used this effect for vocals and guitars where I wanted a dry sound that stood away from the rest of the mix.
The Space Station is also for weirder treatments for guitars, vocals or keyboards where I was looking for a long delay effect with an unconventional effect "aftermath"--the repeats and feedbacks were comb filtered and resonant sounding but in a stable and reliable way.
The Princeton Digital Space Station SST-282 is a unique effect useful for subtle to moderate to extreme and wacky delay and reverbs. It is completely different from any delay or reverb plug-in I've seen and makes a good addition to any plug-in collection no matter how large. It is available as a download for $499. Get the demo and check: www.princetondigital.com.
---
Web Page design is copyright © 2010 by Barry Rudolph