Understanding Sound Reinforcement: The Learner's Guide from QSC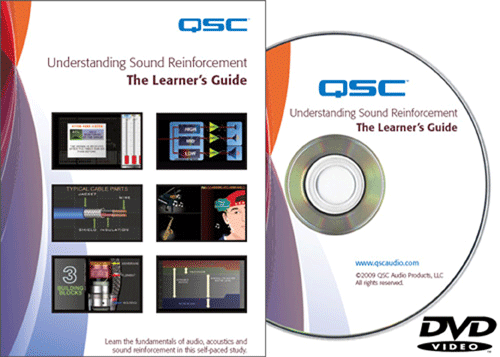 QSC Audio has produced Understanding Sound Reinforcement: The Learner's Guide DVD in the hope of spreading the gospel of good sound through learning the fundamentals of audio, acoustics and sound reinforcement. What might be considered daunting to the beginner is made easier by the DVD's chapter organization and self-paced nature. Smooth narration, images and pleasant animation are all used to convey loads of in-depth information invaluable for any one working as a sound engineer, musician, DJ, or a member of a House of Worship, School, or Public Facility. Anyone charged with being responsible for audio/video equipment should get and study this DVD.

Understanding Sound Reinforcement: The Learner's Guide is divided into topics: Sound & Hearing, Signal Path and Gain Structure, Mixing Consoles, Equalization, Acoustics, Microphones, Signal Processors, Power Amplifiers, Loudspeakers, Cables, Connectors and Impedance.

I watched this DVD in its entirety in one sitting and, even though I am a veteran recording engineer, I found it a good refresher course with a live sound slant that I am interested in. I especially found the chapter on acoustics very interesting--I learned many things I was not aware of. The sections or chapters each run from eight to more than 15 minutes depending what is covered--they consist of the "meat and potatoes" of audio concepts and practical knowledge. Each chapter wraps up with a good summary of its most salient points and how it all relates to the big picture of good sound. A beginner should take on a new chapter everyday as part of a quick start regime to learning about sound and audio.

Finally, chapter quizzes are available online, free with product registration plus both English and Spanish languages are supported. Understanding Sound Reinforcement: The Learner's Guide is $99 MSRP and comes with no region encoding--play it anywhere in the world on any DVD machine. For more information, visit www.qscaudio.com.







---
Web Page design is copyright © 2010 by Barry Rudolph