Rocstor Rocpro 850 Hard Drive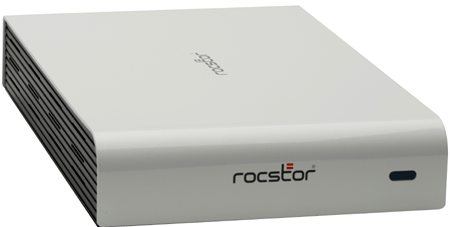 Rocstor recently released a new line of hard drives in both desktop and mobile versions that feature 7,200 rpm 3.5-inch internal drives, up to 32MB of cache memory, and an Oxford 924 chip set for eSATA, FireWire 800/400 and USB connectivity. The desktop models come with built-in universal/world power supplies (no pesky wall wart or line lump power supply) and are fan-less for noise free operation.
I received a 1TB Rocpro 850 and it went immediately to work cloning both my office and Pro Tools MAC's system drives. I also made copies of my current Pro Tools session files on a separate partition. In total, this is about 800GB of data that the drive gobbled up in many hours of trouble-free, continuous operation. Once copied, I can use the included stylish shoulder bag to carry the drive and travel out of town or to another studio. I do this copying as an "insurance" policy against something awful happening on the home front while I'm gone.
Some other features to consider when you're shopping for a new desktop drive: the Rocpro drives use a state of the art enclosure design made from an aluminum alloy that maximizes heat dissipation; the drives come pre-formatted; they are only 5.8W x 8.7D x 1.6H inches big and can be stacked and "daisy-chained" for more storage space; they come with a FW 800 to 400 adapter cable plus cables for USB and eSATA connections; and Norton PC software.
Lastly, they are cross-platform compatible between Mac and Windows, and have a 2 year limited warranty with toll-free telephone tech support. The Rocpro 850 1TB drive as tested sells for $129, the 1.5TB is $161 and the 2TB model is $195. Check www.rocstor.com for much more.
---
Web Page design is copyright © 2010 by Barry Rudolph