Shure PG 27 and PG42 USB Condenser Mics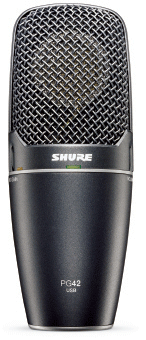 Now that the "dust" has settled on all the newly minted USB mics, some OK and others no so OK, Shure Incorporated steps up with two real "pro" models, the PG27USB and PG42USB. These two side-address cardioid only models are USB variants of their already popular PG27 multi-purpose and PG42 vocal condensers. The PG27USB features a flat, neutral frequency response for most instrument and vocal sounds while the PG42USB is designed specifically for lead vocals.
I received the PG42USB and from the moment I opened the aluminum flight carrying case, I was impressed by its sturdy heft and totally pro construction and feel. Besides the case, they come with: shock mount, USB cable, and extensive manual. Other professional features on the 42 include: a capsule with a 27mm gold-sputtered Mylar® diaphragm, 20Hz to 20kHz response, -15dB attenuator pad, and an adjustable gain range of 31dB.
I wanted to record a voiceover for a recent home video so I fired up a freeware audio program called Audacity on my office iMac (old--OS 10.3.9!), connected a USB cable to the mic, and selected the Shure PG42 USB for both the Input and Output source in the MAC's preferences.
I plugged my Shure SRH750DJ phones into the 1/8-inch mini jack located on the mic's side and found plenty of volume. There is a separate Volume control for the direct sound of the mic (no latency) and another control called Monitor for the sound coming back from Audacity for overdubbing. This all works perfectly from the first time although the Monitor control is recessed inside the mic and is a little hard to adjust. There is a 120Hz low-cut filter that works well to reduce street noise, A/C rumble or to curb proximity effect. The shock mount prevents any foot tapping from traveling up the mic stand and affecting the mic's sound.
The PG42USB sounds fantastic! Big, fat and full sounding on my voice; it sounds like any regular studio mic connected to a studio mic pre-amp. It is by far the best sounding USB mic I've heard to date and I get all of them sent to me! I liked the cool-looking "you're connected" green pilot LED on the front and the green/yellow/red "traffic light" LED that shows audio present, peak, and clip respectively--I've not seen that feature yet in any USB mic.
If there is a better USB condenser mic out there, it probably comes from Shure. The model PG27USB sells for $238 MSRP and the PG42USB goes for $298. Much more at: www.shure.com.
---
Web Page design is copyright © 2010 by Barry Rudolph